In this guide, you'll learn:
Tired of your guest posts getting rejected, clicking around to find broken links, or spending hours trying to improve a high-ranking article just to get a chance at a backlink?
Good news — there's an easier way to get high-quality backlinks without having to write lengthy articles.
Audio link-building is an effective alternative for those who want to build links but are pressed for time or don't have the writing skills necessary.
You don't need any prior experience or special skills to get started.
All you need for this link-building strategy is the right equipment, your voice, and the ability to record yourself speaking.
To make things even easier, there are several tools available online that can help you create a professional-sounding recording.
That is essential for your link-building campaign.
Interested? Below, we'll examine:
What is audio link-building?
How to build audio backlinks
Tips and tricks for better audio backlinks
Summary
FAQ
TL;DR
What is audio link-building?
Instead of fighting and clawing for backlinks through the skyscraper technique or link builders, audio backlinks are all about offering something new that high-authority sites didn't even know they needed.
Recording an audio version of an article or blog post and submitting it to other websites gives you a chance to get more backlinks without having to write anything at all.
There's no idea generation, no keyword research, and no optimization for search engines — just record yourself speaking and submit it.
When done well, this link-building tactic can be a great way to attract links quickly and easily.
| | |
| --- | --- |
| Benefits | Disadvantages |
| New, exciting strategy | Time-consuming (if done incorrectly) |
| Inexpensive | Can slow down page loading speed |
| Less competitive | |
| Scalable with outsourcing | |
How to build audio backlinks
Don't audio engineers need expensive gear to record podcasts and interviews?
Not anymore.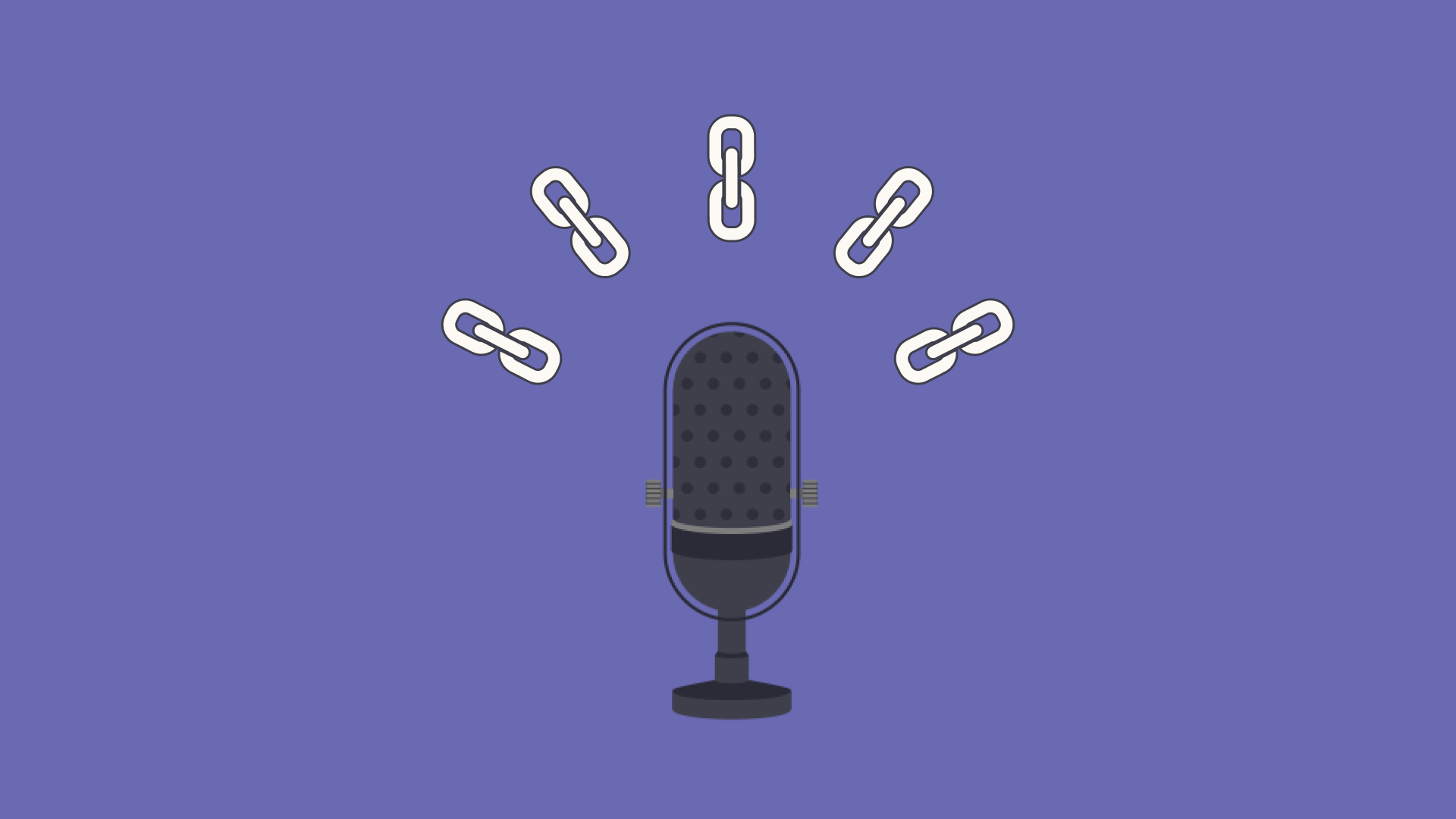 Thanks to advances in technology, any podcast host or site owner can now record high-quality audio with just a few reasonably-priced pieces of equipment and software.
Some of it is even free!
Here's how to get started with audio link-building:
Focus on high-quality sites
Before you start sitting in front of a microphone and laying down the tracks, you need to create a list of prospects.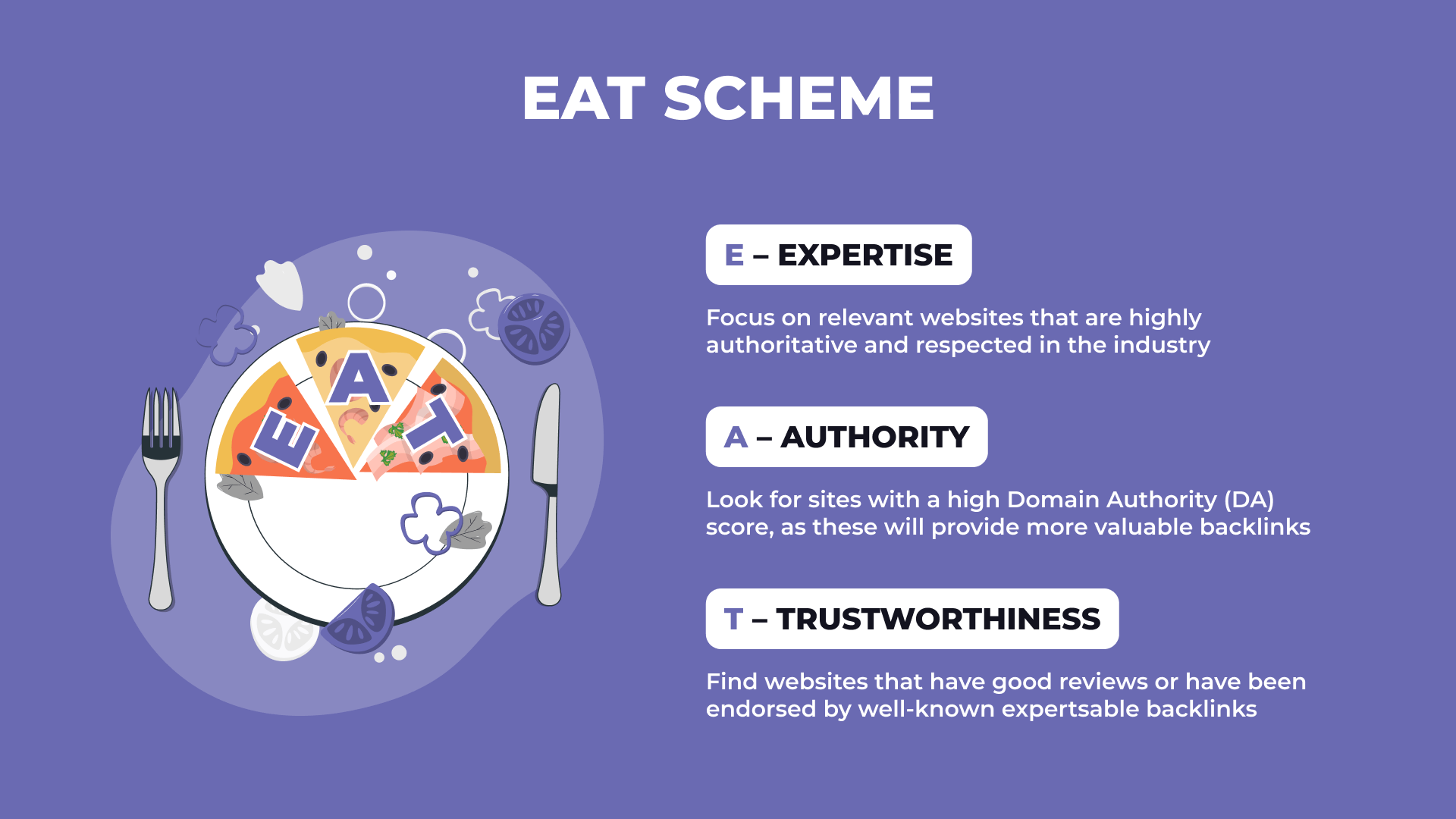 Focus on the EAT method that we have discussed in other articles:
Expertise — Focus on relevant websites that are highly authoritative and respected in the industry
Authority — Look for sites with a high Domain Authority (DA) score, as these will provide more valuable backlinks
Trustworthiness — Find websites that have good reviews or have been endorsed by well-known experts
The goal here is to find content that is already receiving plenty of referral traffic and could be improved even further with an audio recording.
Most people would rather listen to an audio recording than read an article.
Thus, you can expect a good response from these high-authority websites when you offer them something for the small cost of a backlink.
Prospect outreach
Don't hit record just yet!
You don't want to be wasting time creating content for sites that aren't going to accept it.
Start an outreach campaign to your prospects to find out if they would be interested in hosting an audio recording.
To make your link-building efforts a little more efficient, create a template for your outreach emails that you can use over and over with slight personalized variations.
Here are a couple of examples:
Outreach email template 1
Hello!
I was reading your article on ________ and absolutely loved it! Would you be interested in a free audio recording so that even more people can enjoy the content?
Here's a link to an example (add sample recording) so you can see what it sounds like.
Thanks,
(Your name)
Outreach email template 2
Hi (prospect name)!
I came across your website while doing some research on _________, and noticed that you don't have any audio-only options in your articles. I can change that for you!
I provide voice recordings of high-quality content to give hesitant readers a different option. The best part? It's totally free!
Let me know if you'd like me to send some over.
Cheers,
(Your name)
Outreach email template 3
Wow, your site has some amazing content!
The only problem is, some of it is pretty wordy. It's hard for some readers to stay focused through long articles. Have you ever considered offering audio versions?
I provide free recordings for some of the best _________ sites so that readers have a different way to consume the content. I'd love to do the same for you!
Here's a recent example that you can listen to (add sample recording).
Would love to work with you on upgrading your pages.
Talk soon,
(Your name)
Record the audio
Once you have a prospect hooked on the idea, it's time to go to work.
Record yourself reading the guest post or your own podcast, and make sure the audio sounds top-notch.
Not everyone will have money to pour into expensive gear or recording software, so here are a few suggestions on what to use depending on your budget.
Send it as code (with a backlink!)
Submitting the audio file might seem easy but there are a couple of things you need to remember.
Send it as HTML embed code: This way, the website will be able to embed the audio content directly onto its page without any additional work.
Include a backlink: Don't forget to include a link back to your own sites when submitting the file. This is essential for getting that valuable backlink!
Optimize metadata: Metadata helps search engine rankings for organic traffic, so make sure to include relevant keywords and tags.
Every time you submit a recording, make sure to include a call to action that offers to do it again for another piece of your own content.
Tips & tricks for better audio backlinks
Ready to take your audio link-building techniques to the next level?
Consider these tips:
Rejuvenate your email templates — Every few weeks, take a look at your email templates and see if there's anything you could tweak to make them more effective.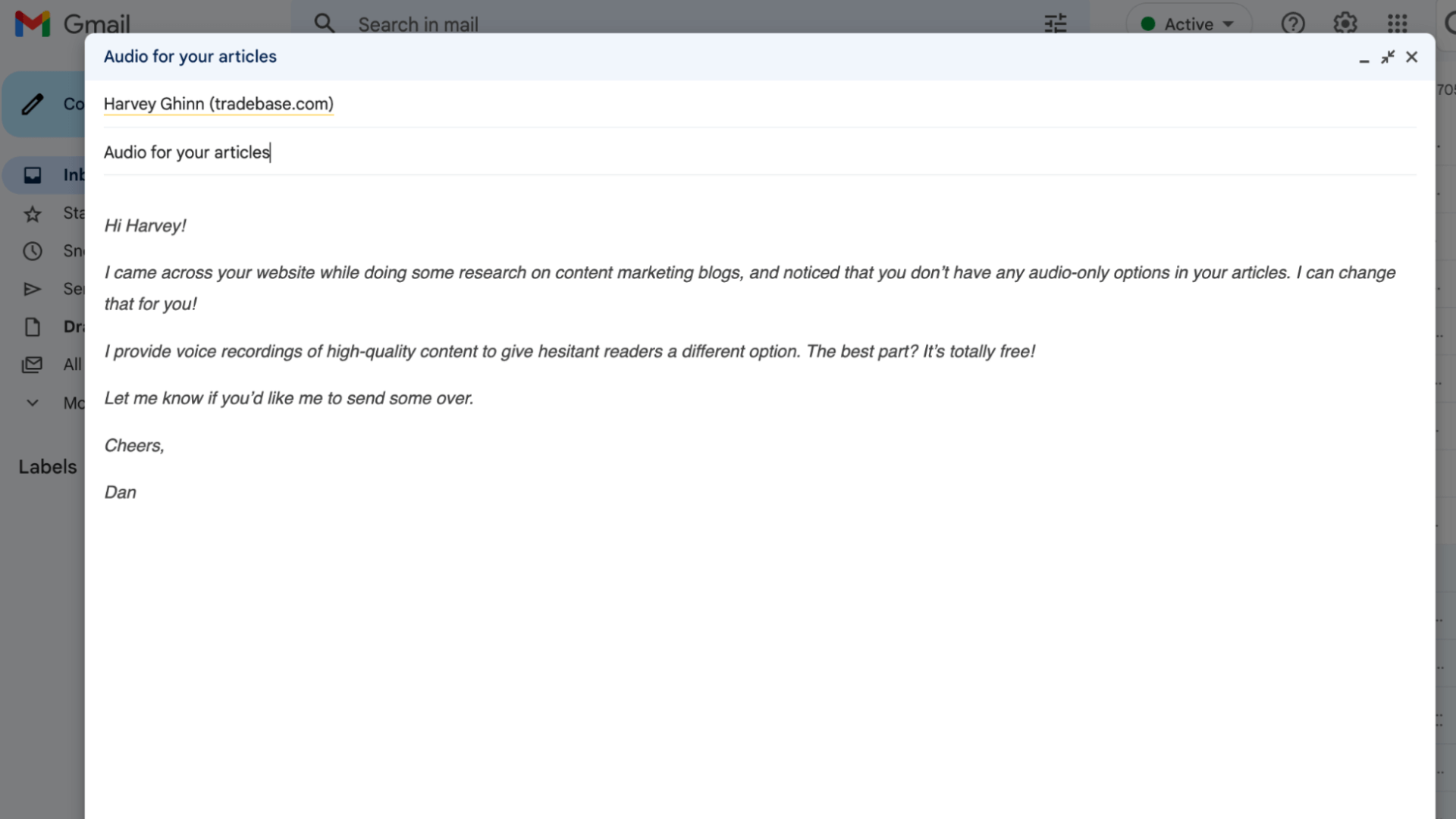 Record multiple takes — It's important to record yourself speaking multiple times so that you have a few options when it comes time to edit the audio.
Make sure the audio is top quality — You don't want your backlinks associated with poor sound quality, so always make sure the recording is as good as possible before submitting it.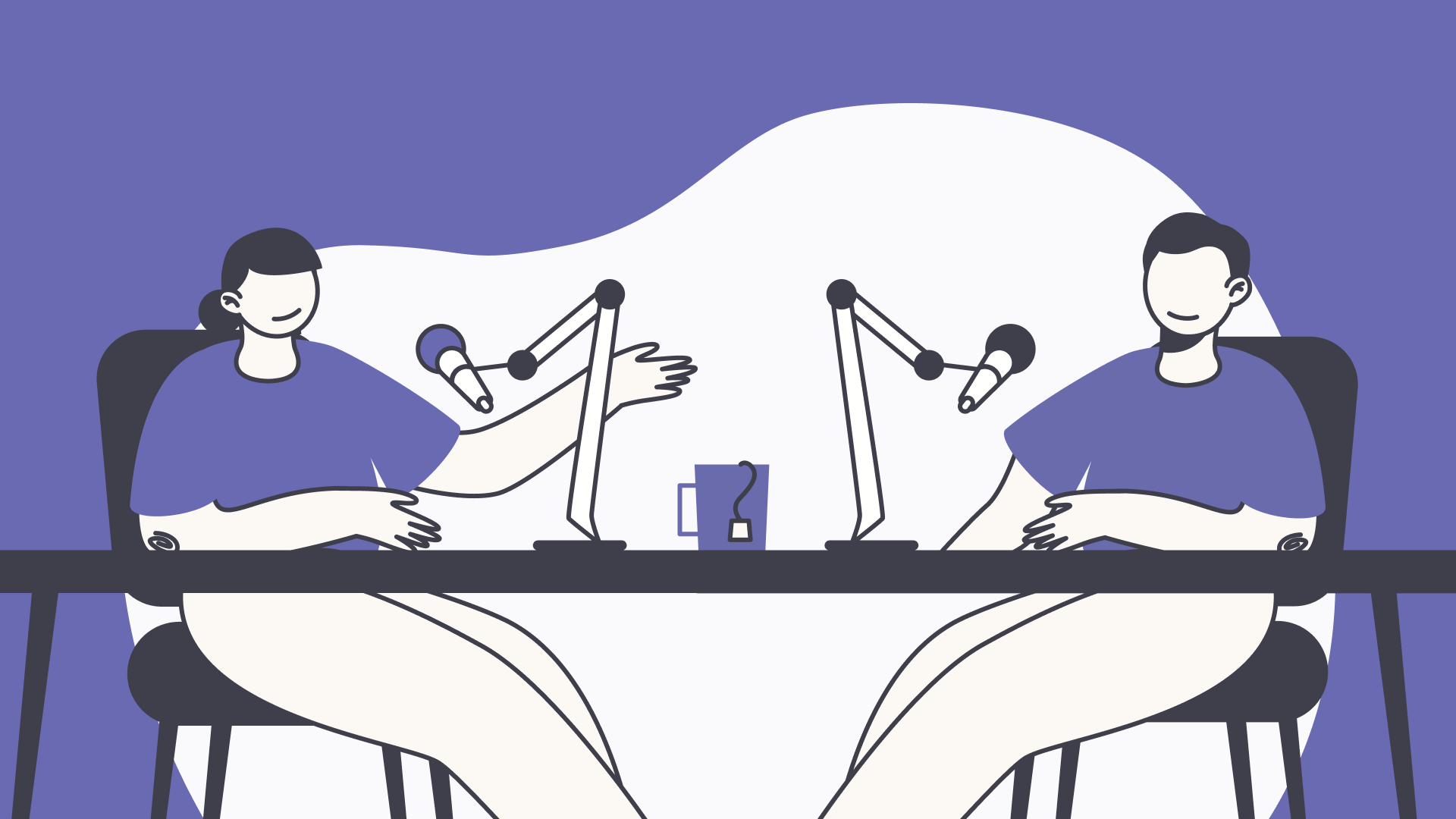 Ensure your backlinks are updated — You wouldn't want your hard-earned backlinks to turn out to be dead links. Make sure you keep your link-worthy content up to date and double-check them regularly.
Be mindful of copyright laws — Always be aware of any copyright laws that may apply when using someone else's content in your audio recordings. Get permission from the webmaster first.
Summary
Improve your search engine rankings and start building links the easy way — with audio link-building.
Use the tips above to get started, and you'll be well on your way to having a steady stream of backlinks coming in from high-authority sites.
FAQ
How do audio backlinks work?
Audio backlinks are a form of link-building where you create an audio recording of an article or blog post and submit it to relevant sites.
This gives you the chance to get links pointing back to your site without having to write any content.
Are there any disadvantages to using audio backlinks?
They can slow down page load time, as audio files tend to be larger than text-based files.
Additionally, creating an audio recording takes time and requires the right equipment and software.
Are audio backlinks effective?
Yes!
High-quality audio recordings can attract the attention of website owners and give you a chance to get backlinks from high-authority sites.
Remember to mix this strategy with other link-building strategies to get the best results.
Does Getmentioned build audio backlinks?
We do not currently offer audio backlink services at Getmentioned.
TL;DR
Audio link-building is a great way to get high-quality backlinks without having to write lengthy blog posts.
All you need is some basic equipment, your voice, and the right approach to prospecting.