In this guide, you'll learn:
Navigating the world of digital marketing is complex.
It requires extensive know-how and experience.
And even with the best strategies in place, a site owner may find a penalty slapped because of Google's algorithm update or manual action.
If you suddenly find a drop in your website's organic traffic or your position in search engine ranking is suddenly in freefall, you may have a site-wide penalty from Google.
It is important to fix Google penalties as quickly as possible.
Falling search rankings mean a loss not just in website traffic but also customers, sales, and revenue.
Fortunately, you can rectify Google penalties once you understand their causes.
This is what our in-house technical SEO expert Max Peters, Owner of Technical SEO Consulting with over 12 years of experience, did.
Max will delve into what Google penalties are, their types and examples, and how to find out what you were hit with.
He will also go through the steps you need to take for Google penalty recovery to help your site recover quickly.
Let's dive in.
Quick Navigation
What Are Google Penalties?
A Google penalty is a disciplinary action that Google levies on websites that don't meet the guidelines of Google Search Essentials (erstwhile known as Webmaster Guidelines).
When sites get hit with Google penalties, they need to step away from the search engine optimization (SEO) game until they resolve the issue.
Until then, their website is removed from search results, or they see a significant dip in their rankings for certain keywords.
Google penalties are in place to curb black-hat techniques and ensure that only superior content can be found in SERPs.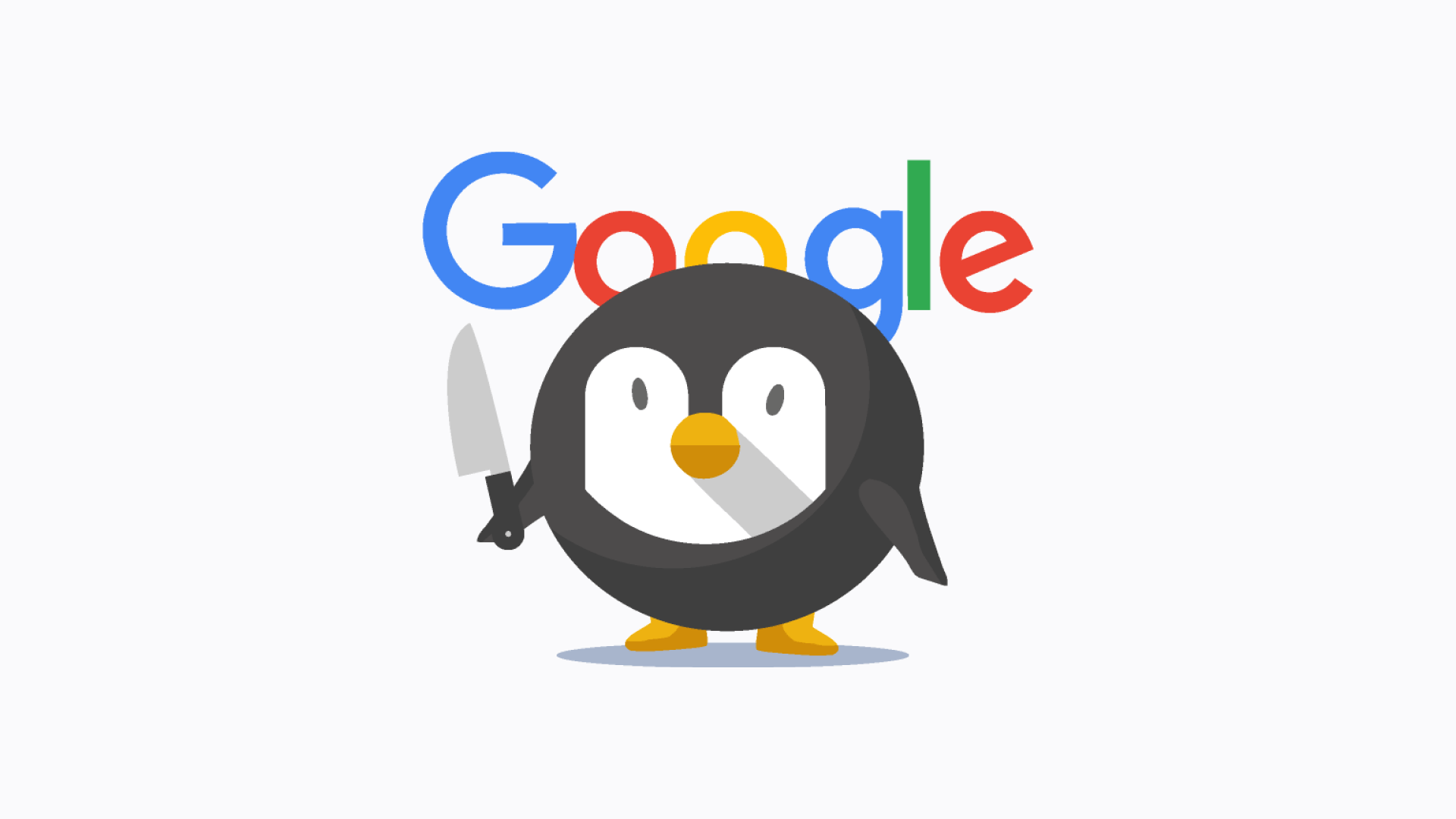 But, Google may also penalize innocent websites that make inadvertent mistakes. And there are steps to take to rectify it.
Below, I'll delve into all you should know about Google penalties so you can reverse the sanctions.
Types of Google Penalties
These Google penalties may be imposed on websites:
Manual Penalties: These are imposed by auditors when websites flout Google's Terms of Service.
Algorithmic Penalties: They are automatically levied after the Google algorithm updates or changes.
Examples of Google Penalties
Here are examples of a Google manual penalties:
| | |
| --- | --- |
| Examples of Google Manual Penalties | Definition |
| Keyword stuffing | Also called spammy keywords, this is when irrelevant but high-performing keywords are used to boost traffic. |
| Hidden text | This involves obscuring text (e.g., white text on a white background) to boost traffic. |
| Thin content or duplicate content | Low-quality content or user-generated spam are not valuable in the eyes of Google because it is repetitive or irrelevant. |
| Link schemes or unnatural links | Inefficient and dishonest strategies for getting backlinks are called bad links, spam links, or low-quality links. |
| Sneaky mobile redirects | These involve redirecting mobile users to spammy links through manipulative doorway pages. |
| Cloaking | This involves adding hidden images in the webpage background to boost rankings. |
| Hacking | If a website has security problems, such as adware, spyware, and viruses, Google blocks it for visitors' safety. |
| Structured data issues | This involves mismatched site content and structured data markup, such as mismatched AMP pages and canonical web pages. |
Algorithmic penalties are as follows:
| | |
| --- | --- |
| Examples of Google Algorithmic Penalties | Meaning |
| Google Panda penalty | It looks at content quality-related problems. It has an impact on the whole site, despite the problems being limited to one or two web pages. |
| Google Penguin penalty | It looks at backlink profiles and anchor text distribution. It has an impact on only specific pages, so it is easy to recover from. The other web pages will not dip in search engine rankings. |
Developing a good link profile with high-quality links will prevent the above penalties from befalling your site.
Partner with a reliable link-building services agency for authoritative links.
How To Check if Your Site Has Manual or Algorithmic Penalties
To see if you have a Google manual penalty, do the following:
1. Visit the Google Search Console (erstwhile called Google Webmaster Tools).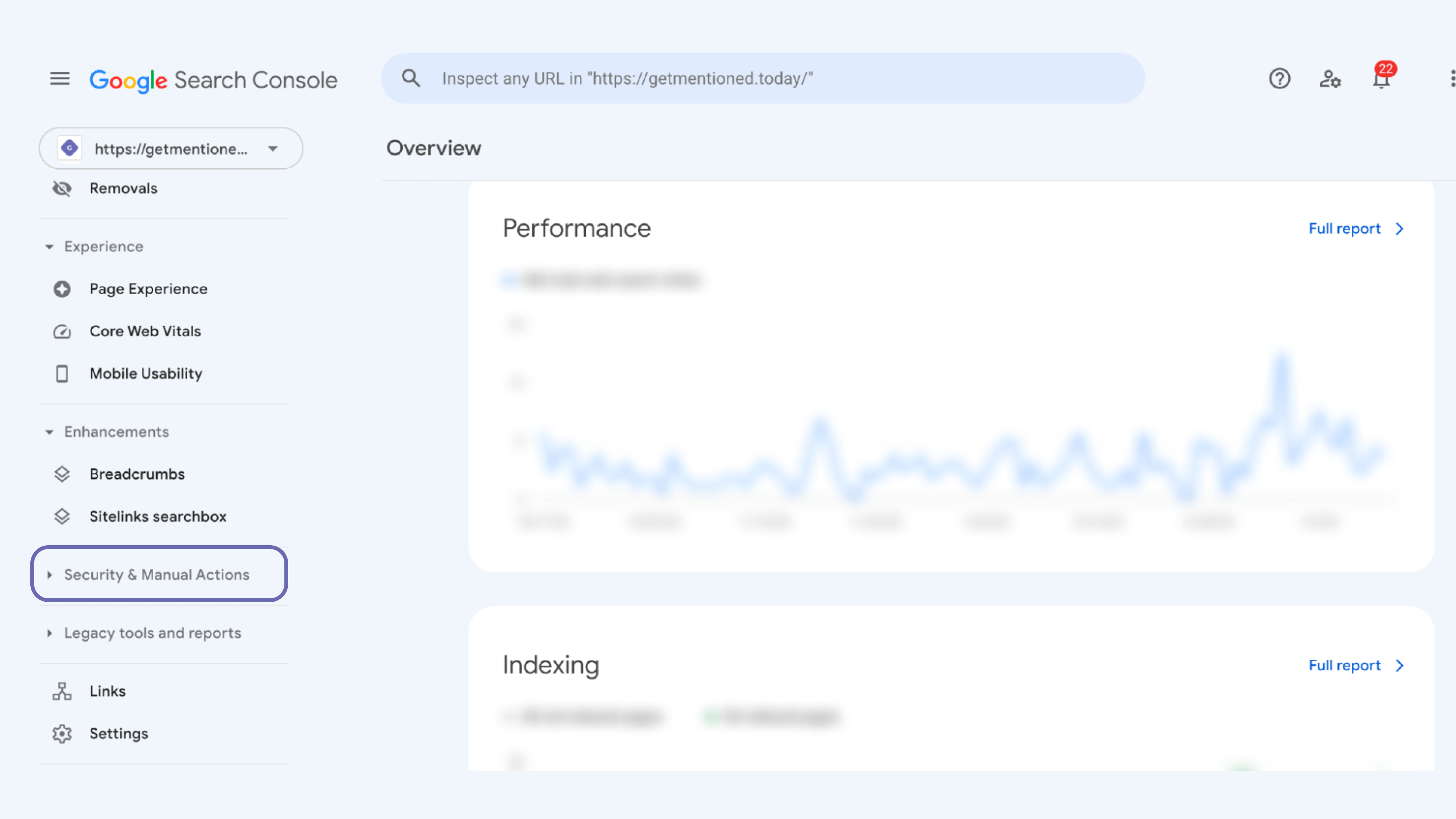 2. Under the Security & Manual Actions section, click on Manual Actions.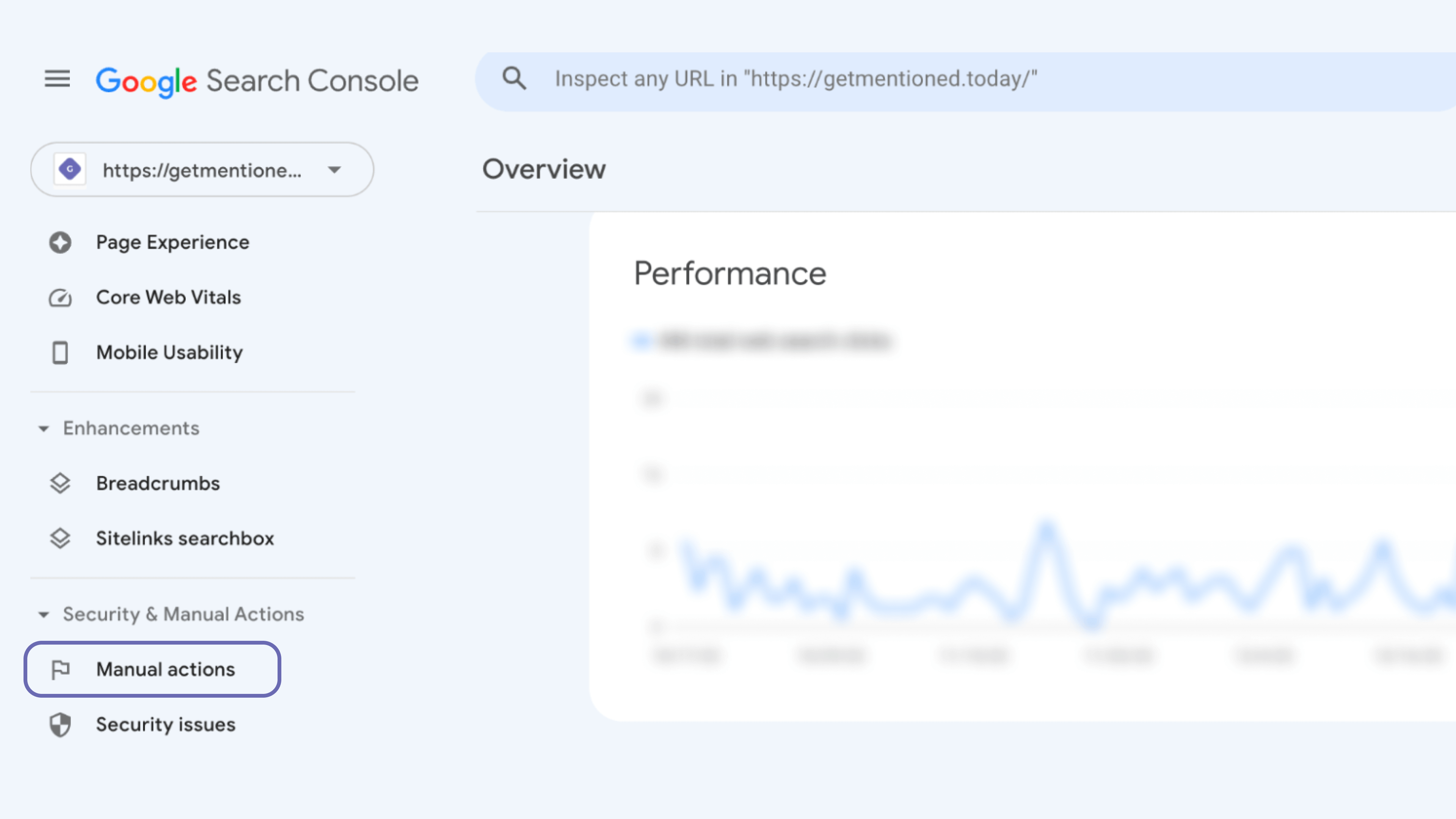 3. If you see an error message, it means you've received a manual penalty.
If you instead see a box saying "No issues detected" with a green checkmark, it means there are no manual actions against your site.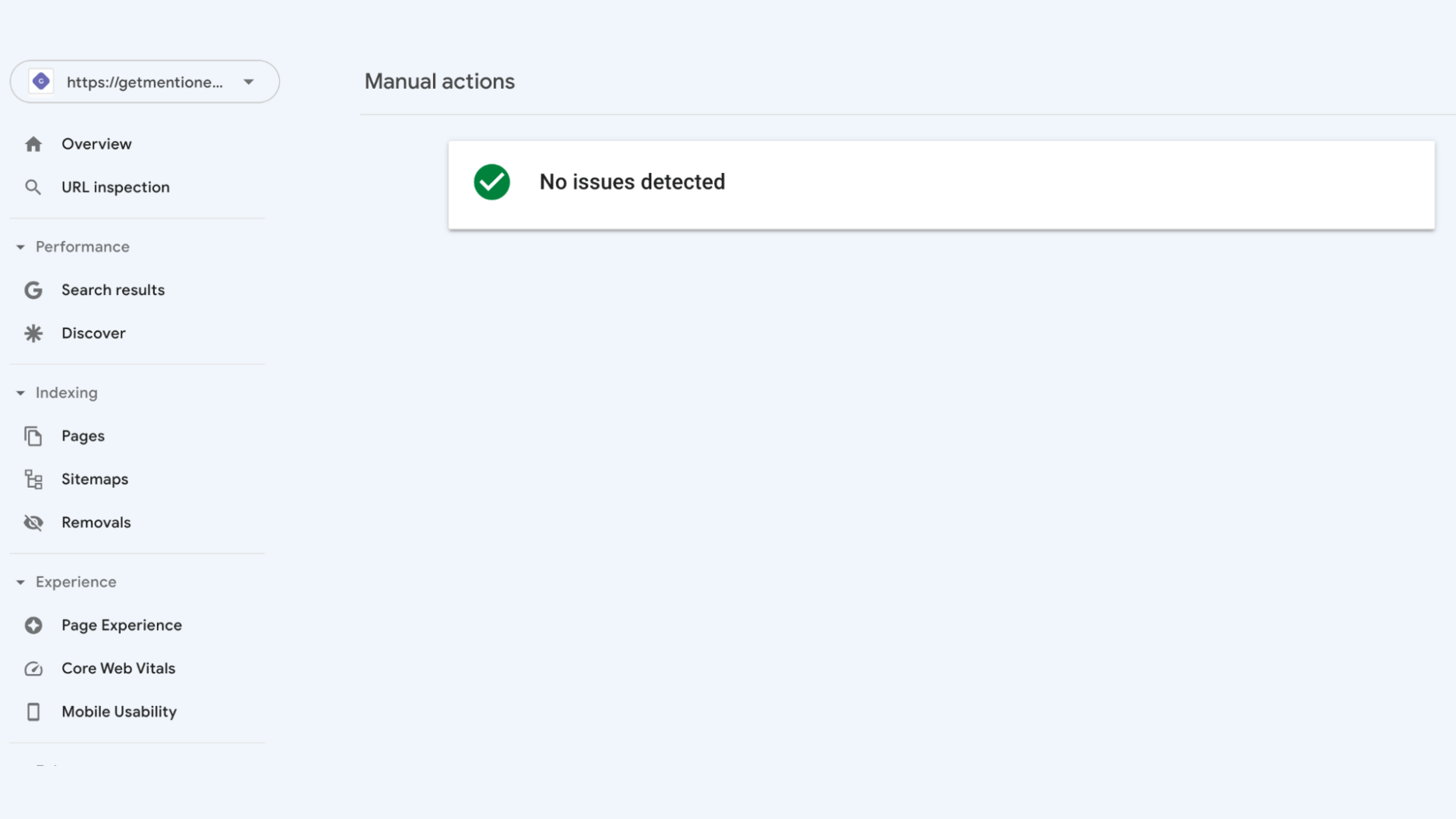 Checking if your site is a victim of an algorithmic penalty is more time-consuming and tricky—you'll have to look at your site's rankings.
Here are the basic steps to do so:
Note the specific period you noticed your search traffic falling.
Look up whether Google introduced new algorithm updates during that period.
If the fall in your search traffic coincides with an update, you may have been hit with an algorithmic penalty.
Each update is different.
For example, the Panda update looks at content quality, while the Penguin update focuses on inbound links and anchor text distribution.
Also, every fall in search traffic does not automatically translate into a Google penalty.
For instance, I've seen seasonal businesses experience significant dips in traffic during off-seasons.
This is why I always advise companies to track at least two-year-old data trends (if such data is available) to check for similar traffic drops around the same time.
A jump in quality content from other brands and businesses can also drive your site's rankings further down the search engine results pages (SERPs).
How Long Does It Take To Recover From the Penalty?
Once you rectify all errors, your website will recover from a Google penalty and rise back through the ranks, literally!
Here are the recovery times for manual penalties and algorithmic penalties:
Type of Google Penalty
Google Penalty Recovery Time
Manual Penalties
10 to 30 days

This depends on quickly you correct the error, file a reconsideration request, and have it evaluated and accepted.

Algorithmic Penalties
Around six months for most sites

Some businesses report traffic dips up to two years after a penalty.
How To Recover From a Google Penalty
If your site has a Google penalty, don't worry.
These simple steps will ensure a full Google penalty recovery.
I've applied this Google penalty recovery strategy successfully with various clients' websites.
Several big brands have recovered from link penalties and interstitial sanctions with this plan.
I also have extensive experience investigating traffic drops, which often arise from Google penalties.
Here are the steps you need to follow:
Step 1: Check For Issues in Ranking
First, head to Google Analytics to see if your site has any potential issues with ranking.
Check if you've installed your analytics tracking code correctly.
I've often discovered suspected dips in organic traffic to be a problem with Google Analytics' tracking.
The Google Analytics Debugger extension is an excellent tool for this.
Check Google Search Console if your site has any errors in coverage.
Click on Index and Coverage on the left side of the web page.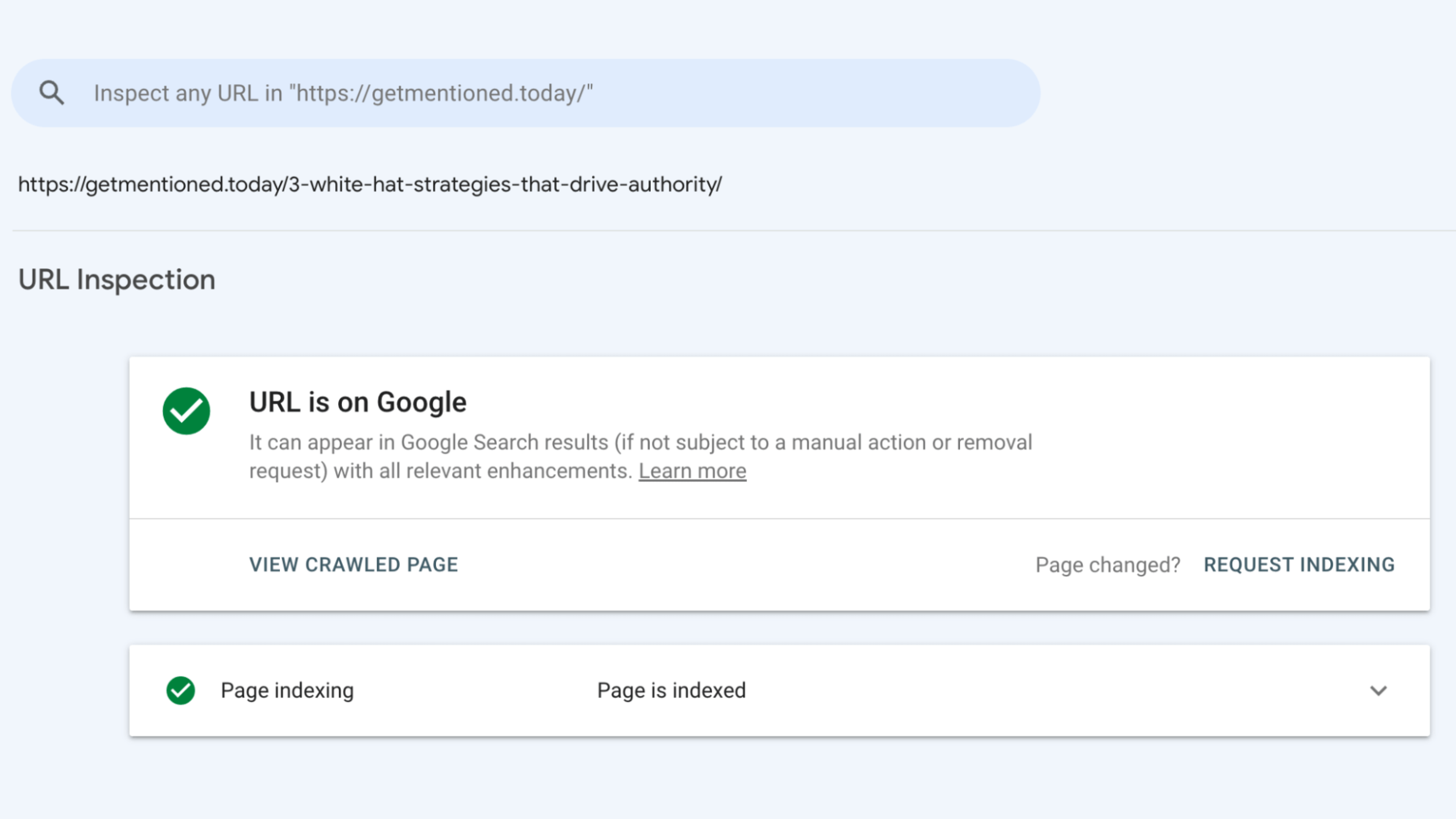 Changes in website structure (URL and internal linking), layout, design, and so on can impact a domain's SEO performance, potentially drawing Google penalties.
So if you or anyone on your team has made changes to the website in the last three months, review them.
As the last step, manually review Google Search Console to see if you have incurred manual penalties.
If you find that the penalty is due to manual actions, resolve the errors and file a reconsideration request.
Step 2: Research Algorithm Updates
Bad SEO tactics or violations of Google guidelines are common causes of most Google penalties.
Google's search algorithm changes can lead to dips in traffic and site performance.
This is why you need to remain apprised of all updates and take action when required.
Moz's Google Algorithm Update History tool lists all Google algorithm updates.
You can easily check the timing of a certain update relative to a dip in your website's performance.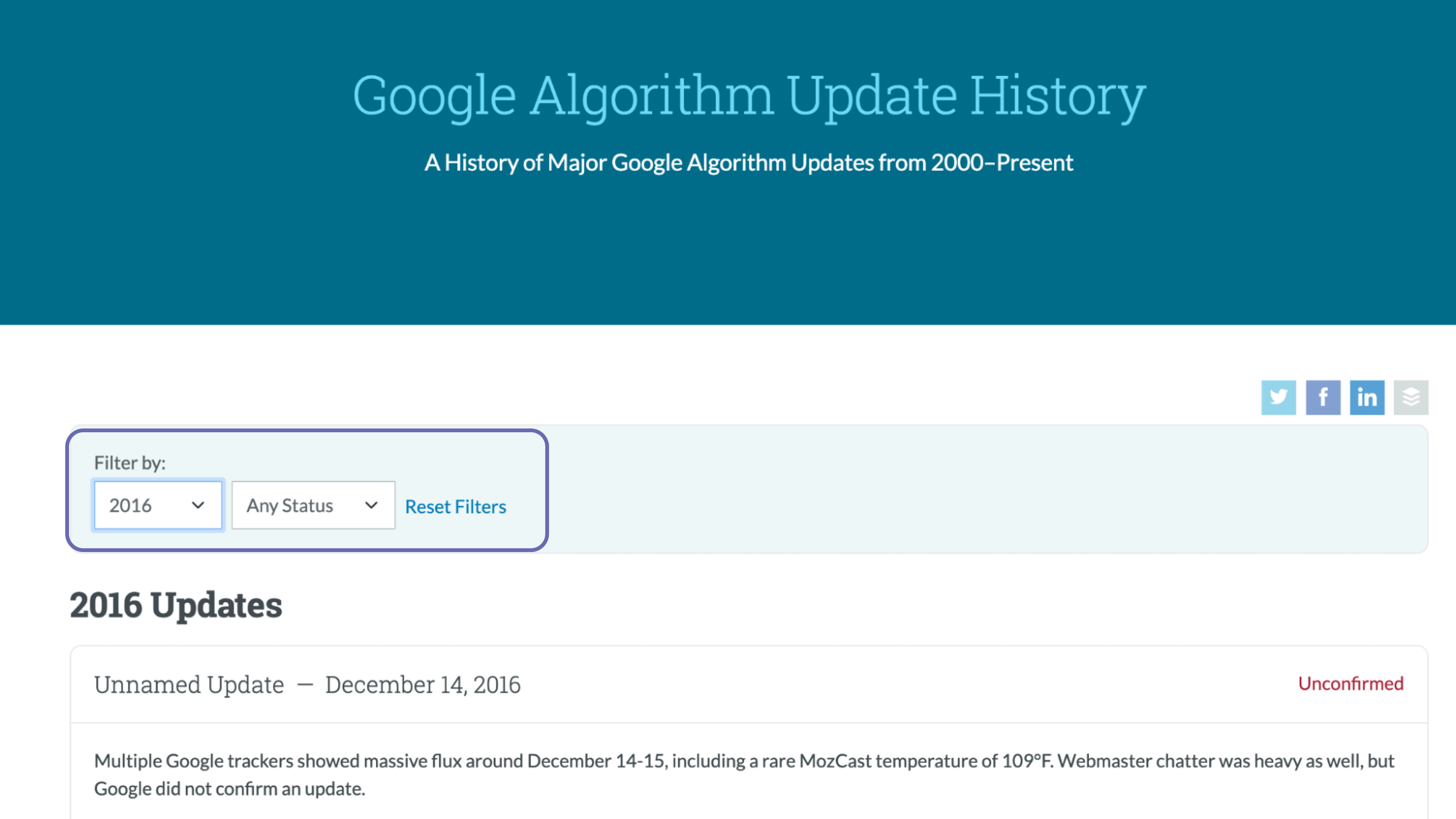 If you hit upon a correlation, delve deeper into which SEO element the update targeted.
This will help you make the required changes and bounce back from the penalty.
Step 3: Run a Complete SEO Audit on Your Site
Website owners should run a technical SEO audit every six to 12 months – it's like you do health checkups for yourself.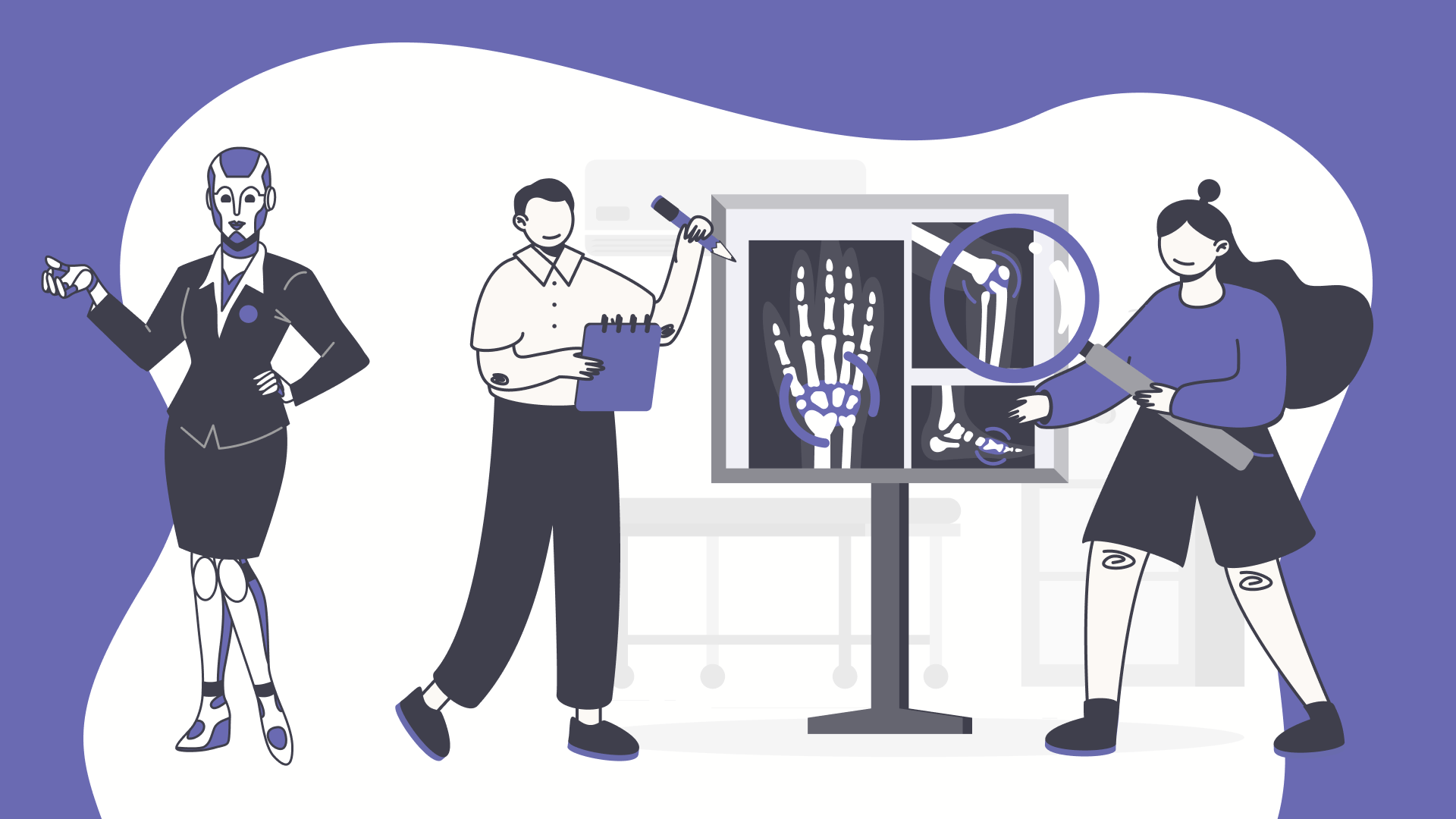 Here are the steps you should take:
Get feedback from website visitors through surveys.
Manually review your website. Identify and weed out problems to help you improve its user experience.
Perform technical SEO audits to identify errors that need fixing.
Audit your website with a reliable SEO audit tool.
Once you have the data you need, create a strategy to correct the issues that have emerged.
This will do wonders to improve your site.
Step 4. Clean Up Your Backlink Profile
A Google penalty recovery requires a complete cleanup of your link profile.
Here are the three steps to follow:
1. Weed Out Bad Backlinks
Do a link analysis to identify and eliminate bad links.
You can take advantage of these tools:
1. Google Search Console: It gives you a list of most of your backlinks. To audit your site's backlinks, sign in to your website's console. On the left sidebar, click on Links and choose Export External Links.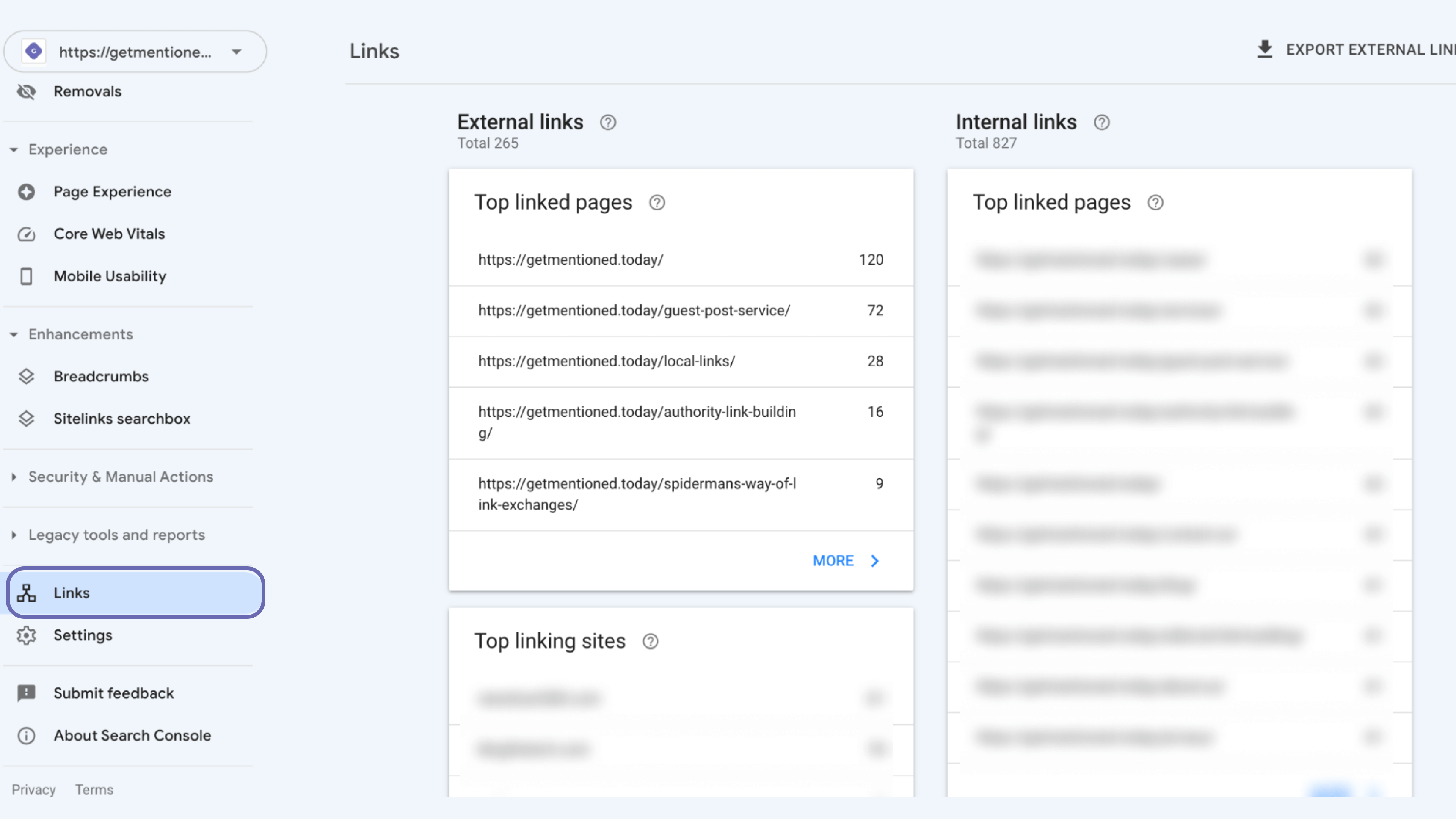 2. Moz Link Explorer: Google Search Console may not have a full list of your website's inbound links, so you should also check the Moz Link Explorer tool. Export both for a thorough evaluation.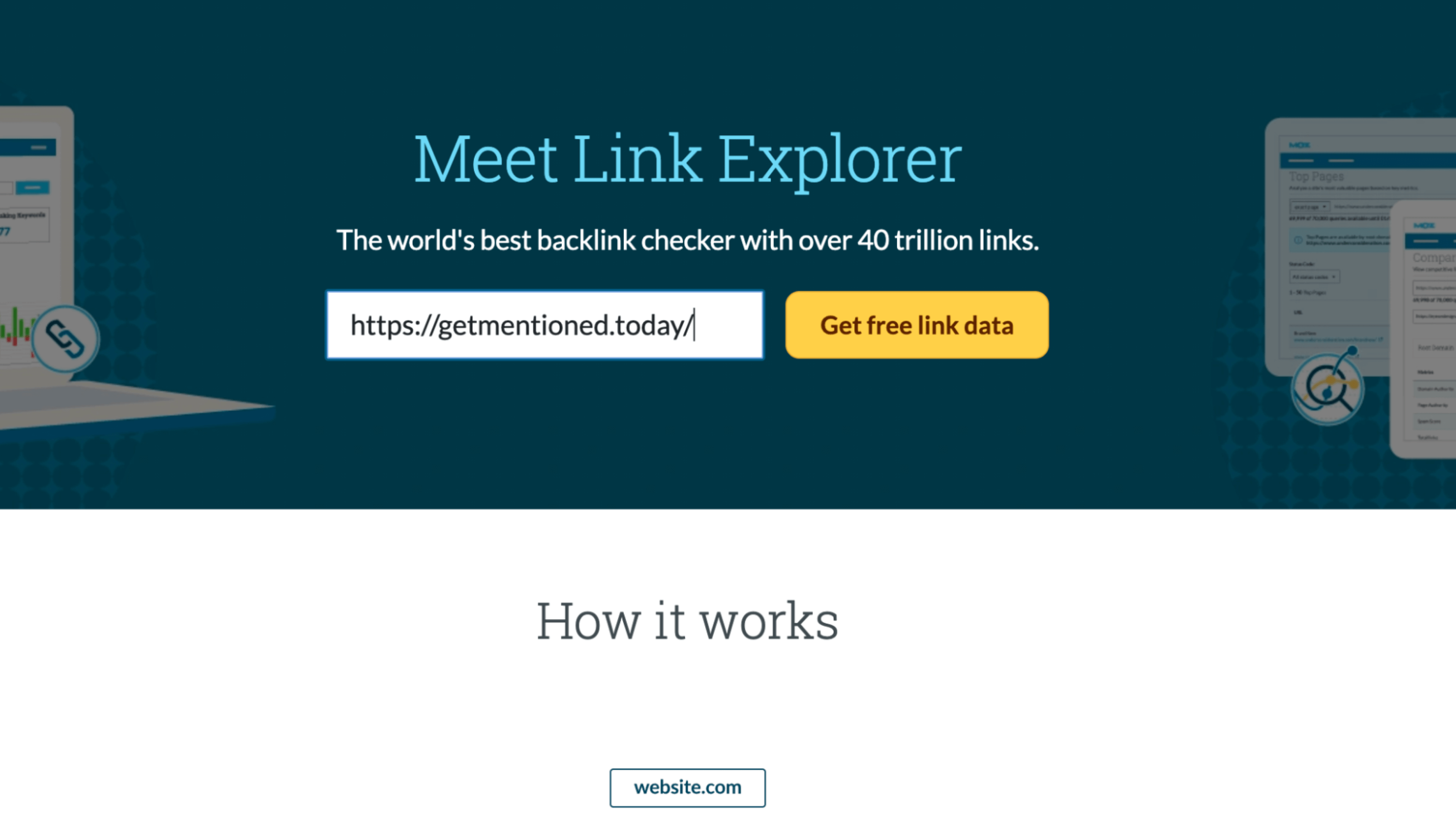 Once you have a rundown of your inbound backlinks, you can examine each and remove bad links.
2. Ask For a Removal of the Bad Links
To eliminate backlinks that you don't want from your website, send a request for the removal of links via email to their respective site owners.
Hunter.io is great for hunting down website owners' contact details.
If there are too many links to remove, BuzzStream is a great way to keep tabs on sent emails and shoot out automated follow-ups.
3. Disavow the Rest of the Bad Links
If certain websites do not reply to your emails, you can go ahead and disavow backlinks.
It requires you to ask Google directly to not associate specific low-quality pages with your website.
Here are the steps to do so:
List all the bad links that you want to disavow in a link disavow report.
Send this detailed report to Google by uploading your file with the Google Disavow Tool.
Summary
Recovering from manual or algorithmic Google penalties may seem challenging.
But my step-by-step plan can help you reverse the consequences.
You can limit link-related penalties and bad backlinks by getting in touch with a top link-building agency.
A white-hat link-building agency will help you use best practices and stay on top of your link-building game.
FAQs
How long do Google penalties last?
It typically takes 10 to 30 days to recover from manual penalties.
Algorithmic penalties take a significantly longer penalty recovery time of around six months for most sites.
Some website owners say that recovery took them two years.
What happens when you get a Google penalty?
When you get hit by a Google penalty due to manual actions or algorithm updates, you'll see a freefall in search rankings, organic traffic, customers, sales, and revenue.
Where do I find my Google penalty?
You can find your manual penalties on Google Search Console and your algorithmic penalties by checking your site's rankings.
How do I remove a Google penalty?
Once you find and correct the issues in your website, you must submit a reconsideration request to remove the penalty.
TL;DR
A Google penalty can affect your rankings in the search results and lead to a loss of traffic, customers, sales, and revenue.
Following the steps in this guide can help you quickly recover from the penalty and rise through the ranks again.