In this guide, you'll learn:
One-way link-building is a very common link-building service.
It is when a link from other websites leads to your website, but you don't necessarily need to do the same for them.
In the SEO world, it is known that it gives you more visibility by achieving a better position on Google.
You can start with one-way link-building yourself, or you can find a reliable link-building agency that has specialized in that particular service.
Oftentimes, marketers forget that link building is a tedious and time-demanding process, so it can take time for your efforts to show the first results.
Since this is one of the questions we get the most often, we decided to ask some experts for their thoughts on best link-building practices.
Experts give their thoughts on one-way link-building practices
We asked our group of SEO experts to give their thoughts on the best one-way link and how they are planning to achieve their goals.
What we discovered might surprise you – some think that one-way link building is worth investing time in, while for others it was a waste of time.
Like all things, it will depend a lot on your business goals, the maturity of your website and other factors.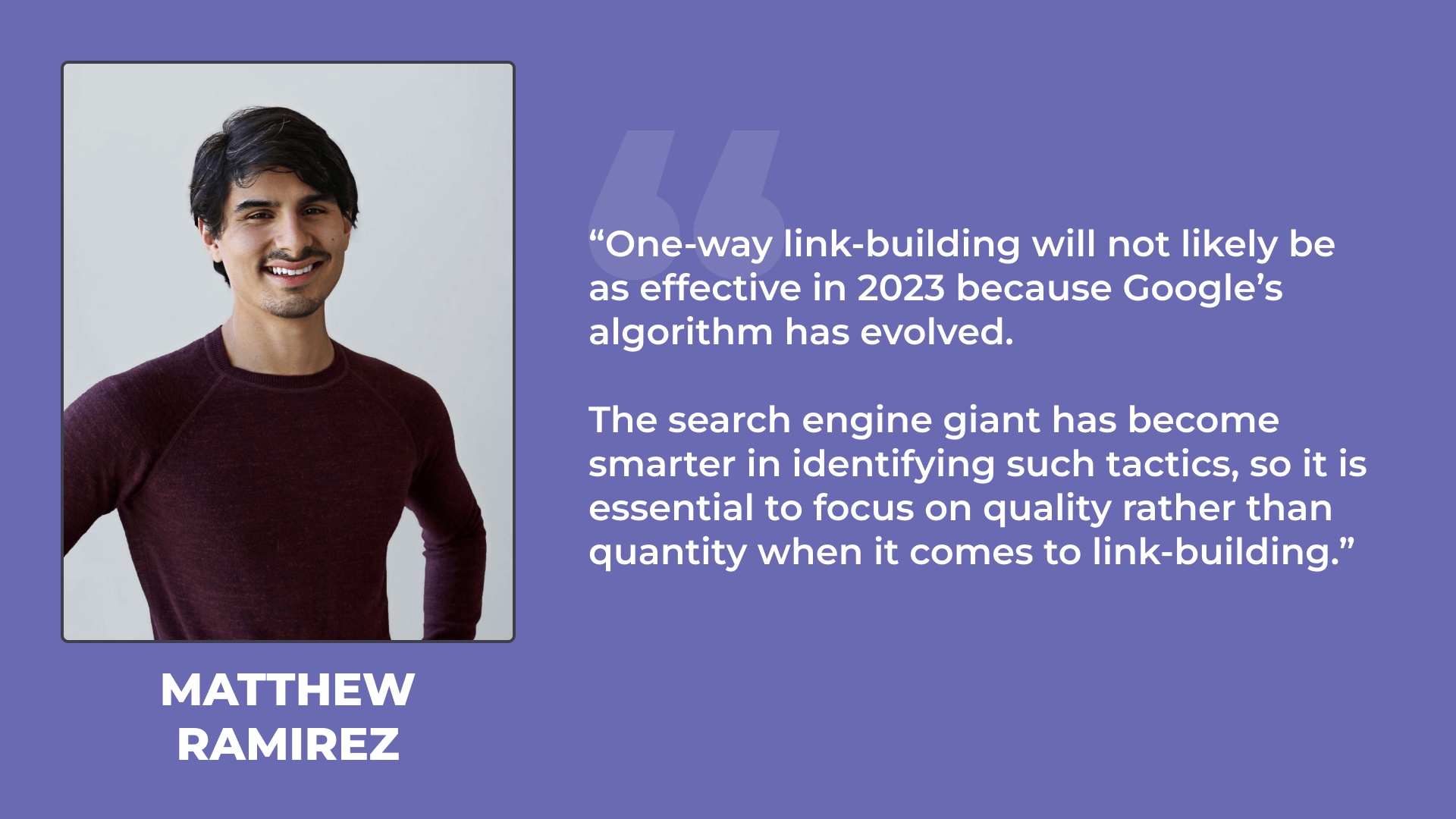 Surprisingly, for Matthew Ramirez, entrepreneur and investor, one-way link building won't be so important in 2023:
One-way link-building is a great way to expand your online presence. You can build links to secure higher rankings while providing value to your audience.
The best practice is to focus on relevant backlinks. Research your target keywords and get links from websites that are high-authority and relevant to yours.
One-way link-building will not likely be as effective in 2023 because Google's algorithm has evolved.
The search engine giant has become smarter in identifying such tactics, so it is essential to focus on quality rather than quantity when it comes to link-building.
The key is to find linkers who have similar content as your site and who have relevant backlinks and want to link back to you.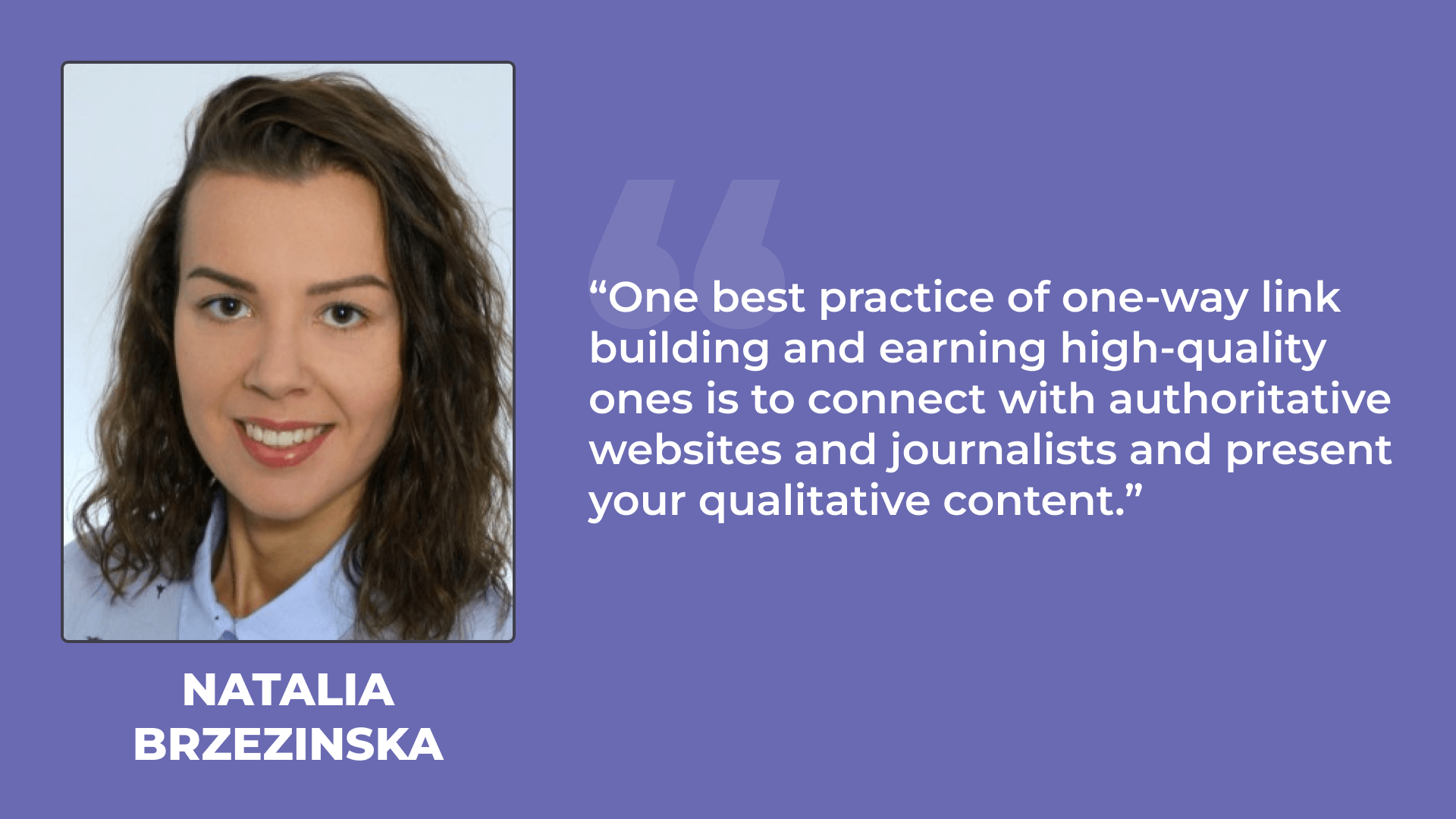 However, Natalia Brzezinska, a Marketing & Outreach Manager at PhotoAid, will definitely continue with link-building in 2023:
One best practice of one-way link building and earning high-quality ones is to connect with authoritative websites and journalists and present your qualitative content.
For instance, we conduct interesting studies on relevant topics for our audience, and then we contact those who could find our finding useful and would like to write a blog post or an article using those findings.
This strategy is a win-win solution. Journalists, website owners, publishers, and bloggers can benefit from these valuable resources, and on the other hand, we can get backlinks and improve SEO results.
I'm sure that this strategy will continue to be successful and effective even in 2023 since creating new and fresh content is still relevant.
Experts' thoughts on best one-way link-building techniques
You might know some of the one-way link-building strategies like:
guest posting,
using directories,
HARO (Help a Reporter Out), forums,
newsletters to promote your content.
This is why we were curious to hear experts give us some ideas and techniques they will be using.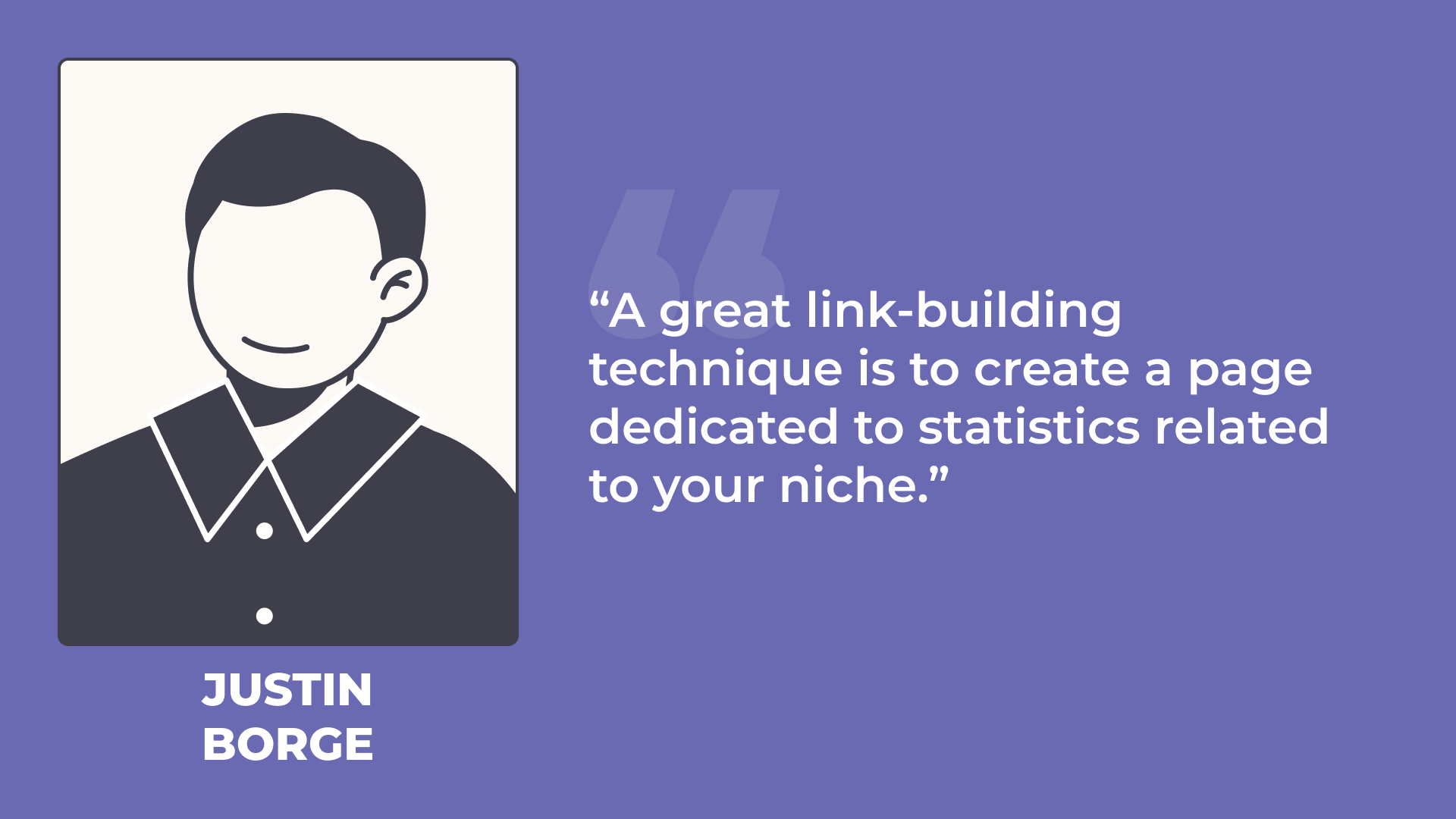 Justin Borge, founder of freeseocourse.co, likes the idea of creating relevant and linkable content, like a statistic page relevant to your niche:
A great link-building technique is to create a page dedicated to statistics related to your niche.
As a freelance writer, I'm always looking to cite credible sources.
To find them, I usually Google, "statistics about [topic]".
If a website has an entire page of statistics on that subject, I'll scroll through them, find one that looks useful, confirm their sources, and then link to them.
I write for some very authoritative websites and give out a lot of solid backlinks that way, no reciprocation is necessary.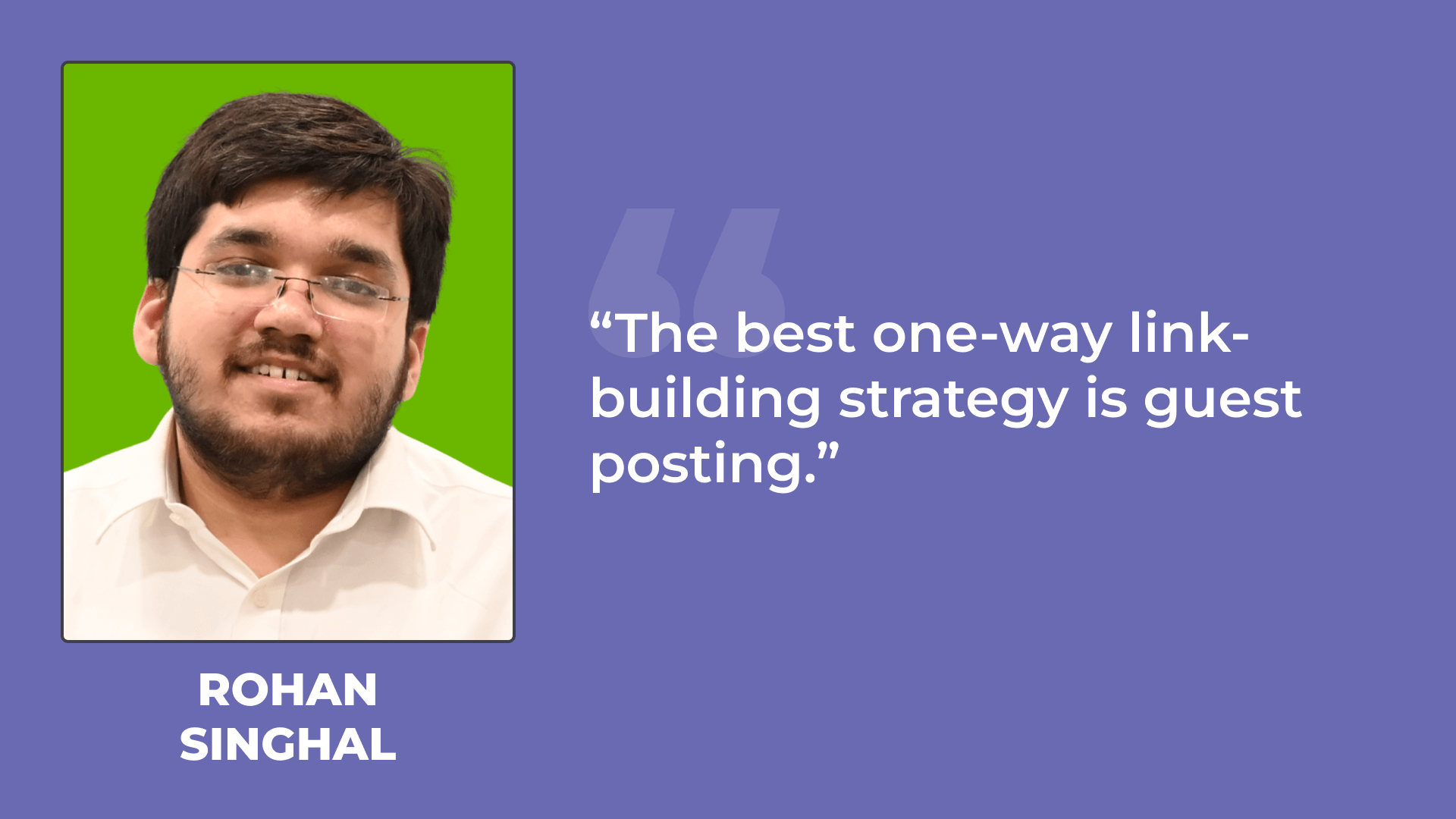 Rohan Singhal likes the classic guest posting strategy which is definitely here to stay in 2023!
The best one-way link-building strategy is guest posting.
It's not exactly an easy strategy to implement because many websites have their own requirements for guest posts, and it can be especially difficult when you lack good writers.
However, with a system in place and thorough research, you can get high-quality links for your website.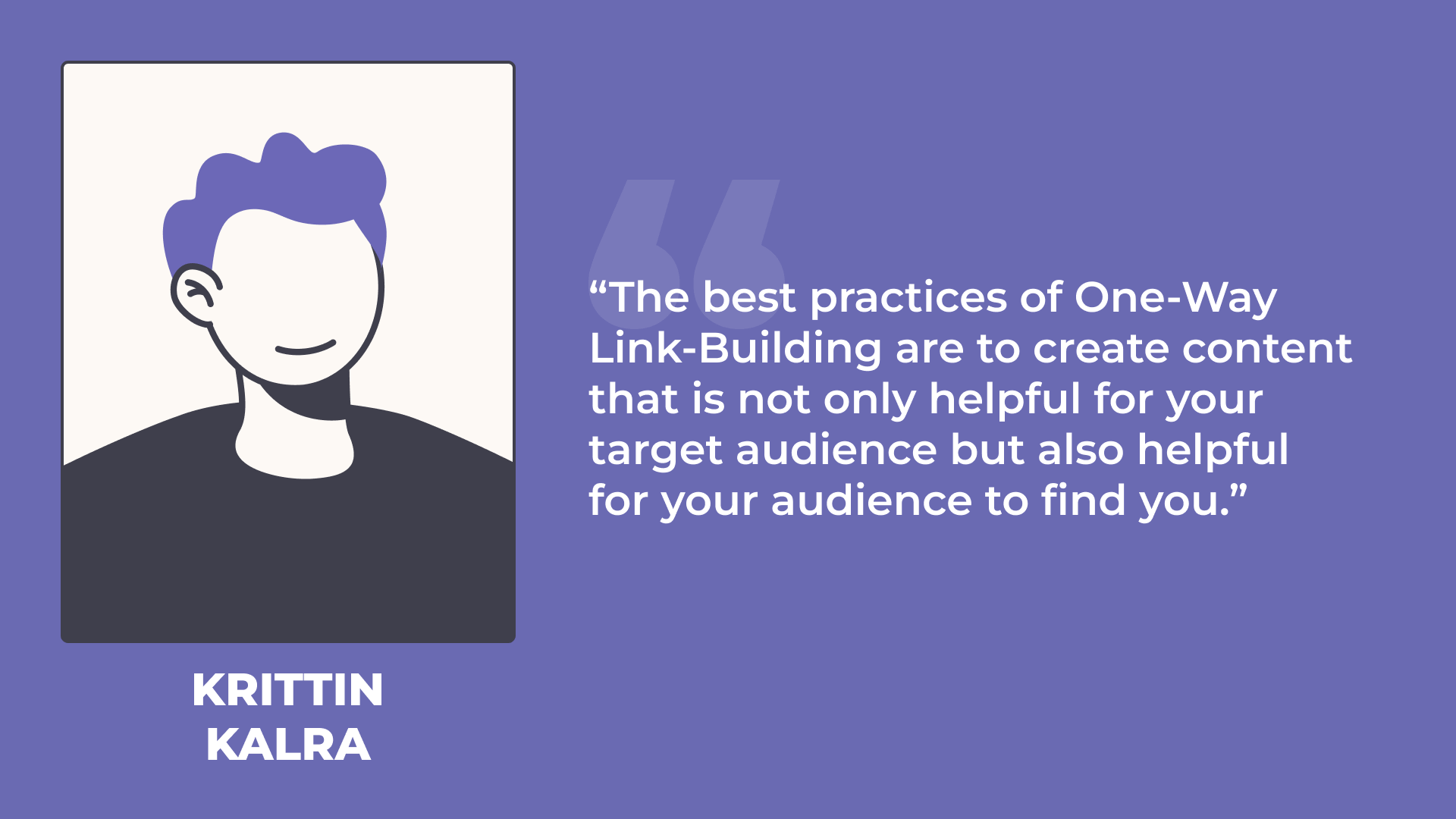 For Krittin Kalra, founder of Writecream, the key is in the content:
The best practices of One-Way Link-Building are to create content that is not only helpful for your target audience but also helpful for your audience to find you.
In the article, we mention how to create content that is helpful for your target audience that is also helpful for your audience to find you.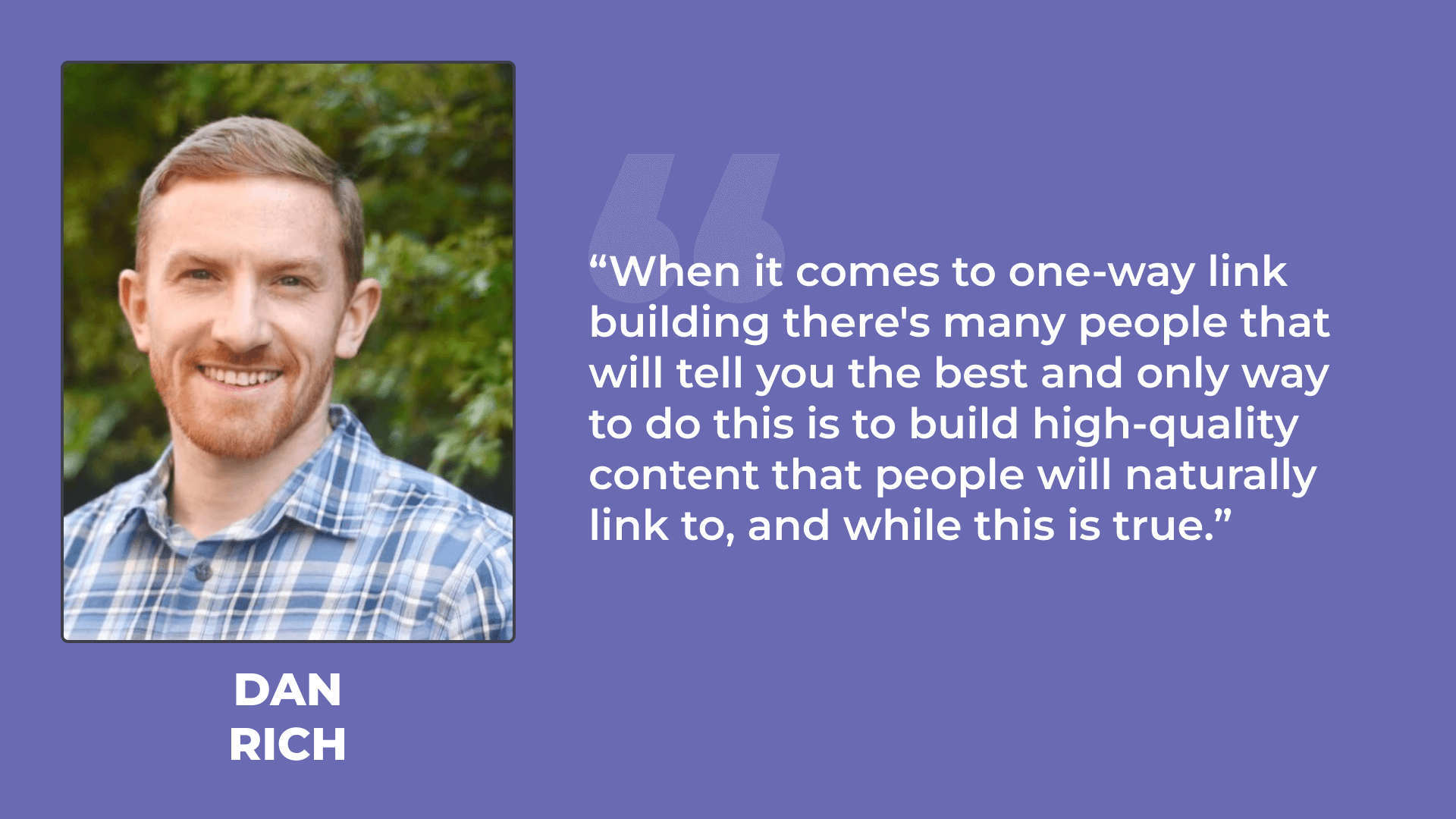 Dan from Danrich.co acknowledges the importance of great content, but also shares other interesting ideas:
With over ten years of experience in SEO, I've done a whole lot of link building over the years.
Let me share a couple of tips that are less well-known:
Understanding the perspective of websites you are reaching out to, most guest posts are low-quality articles that don't ever rank on Google for anything worthwhile, however if you can convince a prospect that you know how to write an article for them that will both rank and drive traffic then you have a far more compelling pitch than someone who says I'll pay you to post a terrible article on your site.
Utilize partnerships – if you are link building for an eCommerce site then reach out to your suppliers and ask to write for them about how great their product is, more often than not they will say yes and you get a hyper-relevant link.
If you're running a blog that does no physical sales then sign up for some relevant affiliate programs, reach out to whoever runs them and ask if you can write a piece for them relating to their product, I've had very high levels of success doing this too.
Experts weigh in – will one-way link building still be relevant in 2023.?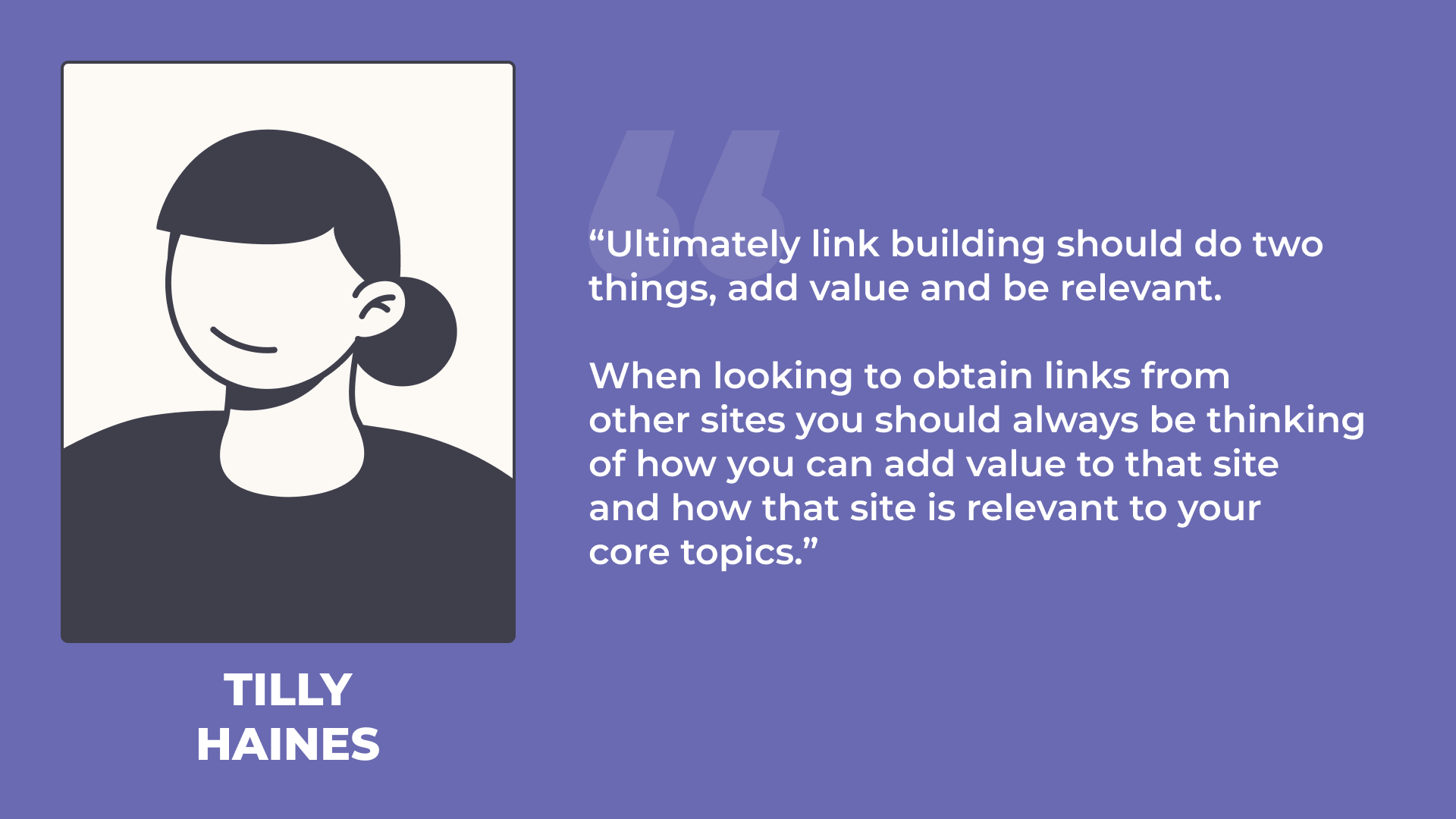 For Tilly, one-way link building with remain quite relevant in 2023:
Link building will continue to be effective in 2023.
Links are still a relevant ranking factor in Google's view and links do support overall site improvement and authority.
However, I do think that link-building will become increasingly difficult in 2023.
Relevancy, strong topics and good relationships with sites/publications will become more important than ever to secure links on quality sites.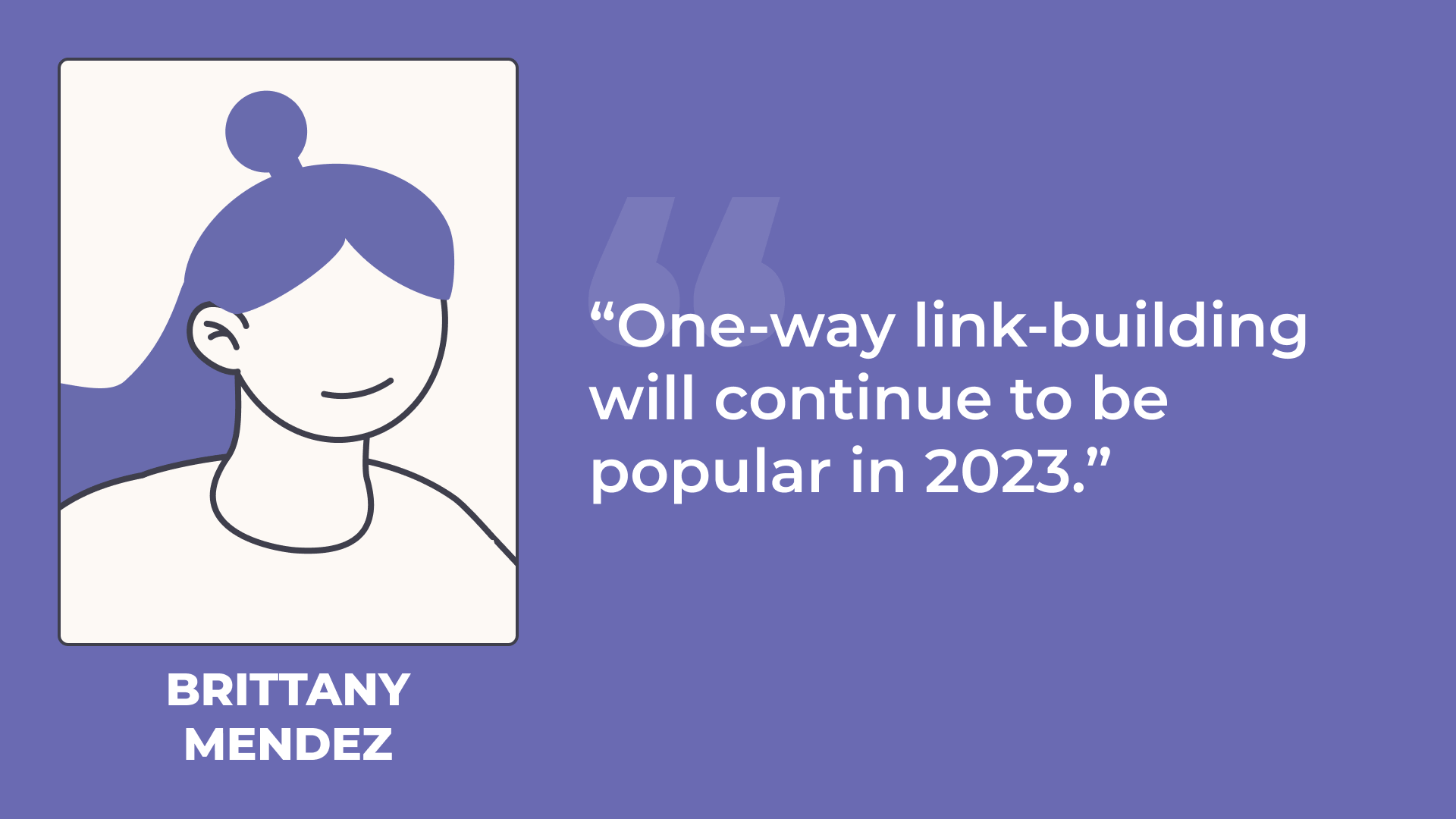 Brittany Mendez, CMO of FloridaPanhandle.com, agrees:
One-way link-building will continue to be popular in 2023.
I think that, if anything, it will be more competitive — with more companies seeing the need and importance for this.
So, are you adding one-way link-building to your to-do list for 2023?
Big thanks to all the experts for sharing their thoughts on one-way link-building in this article.
As with all things, one-way link-building is not for everyone, but it can be a very helpful practice for those looking to boost their search engine rankings.
You'll want to take several things into consideration before starting with one-way link building:
–  When do you expect the first results?
–  Will you do it yourself (takes more time) or will you hire a link-building agency?
–  What method of one-way link-building will you use?
If you need a helping hand, reach out to Getmentioned, an expert link-building agency.
We can help you decide which method of one-way link-building is best for your website and focus on link-building, while you can do what you know the best – grow your business.
TL;DR
One-way link-building is a common link-building practice, primarily used to boost your search engine rankings.
Most experts agree on the relevance of one-way link-building. To decide if it is the best fit for you, take more things into consideration like the time in which you expect results, business maturity, which type of content you have on your website…
There are different ways to do one-way link building. You can do it yourself or hire a one-way link-building agency.