In this guide, you'll learn:
It is not a secret anymore:
The more high-quality backlinks your website has, the higher it will rank in search engine results.
In this article, we are going to cover the 12 best free link-building tools we use at GetMentioned, including our special 3 secret apps [almost] no one knows about, so read till the end.
Table of Contents
12 Best Free Link Building Tools That Actually Work
Majestic SEO For Monitoring Backlinks
Hunter.io
Google Alerts
Google Search Console
Ahrefs
Respona
Sitechecker For Monitoring Backlinks and Backlinks Generator
HelpB2B
Moz + MozBar For Analyzing Keywords
HARO
Buzzstream
SEMrush
3 Favorite Apps We Use For Link Building (It's A Secret!)
FAQs
Summary
TL;DR
12 Best Free Link-Building Tools That Actually Work
Here are 12 of the best free link-building tools for your successful campaign, plus 3 secret apps we use to get good backlinks.
Majestic SEO is a popular link-building tool because it offers a comprehensible "Link Intelligence" database. Majestic SEO obtains its data by crawling and mapping the web.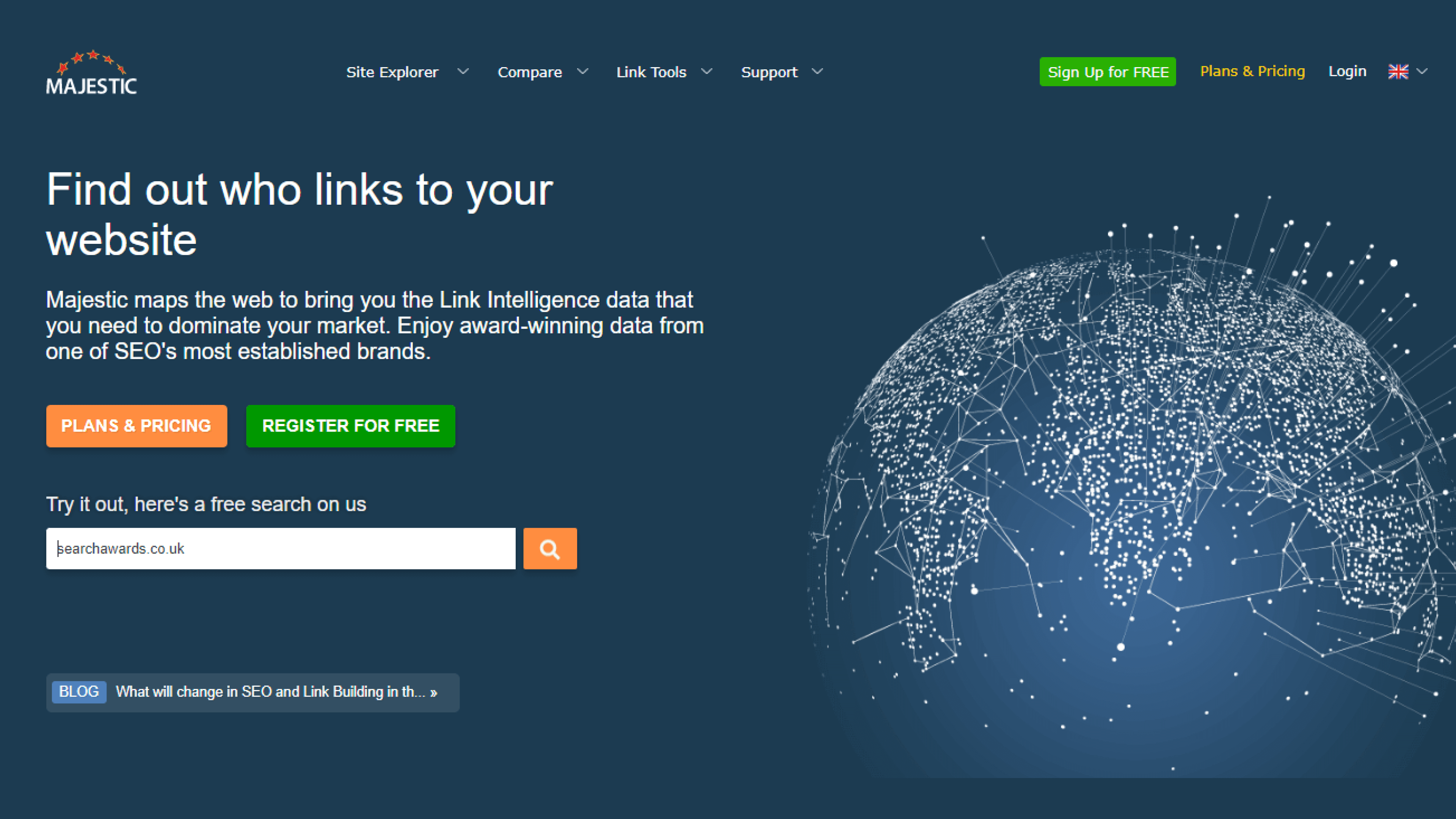 How It Works
Majestic SEO offers two indexes: Fresh Index and Historic Index.
The Fresh Index is updated daily and gives you information about the most recent links that have been added to websites in the past 120 days.
The Historic Index is updated weekly and provides data about links that have been around for longer.
Majestic SEO is a great free backlink checker tool for monitoring your existing backlinks. You can use the Majestic SEO toolbar to check backlinks of any website or your own.
Benefits
✔️ It has unique features such as Topics Report and Trust Flow
✔️ Shows all the websites linking to you, discover toxic backlinks, and wrong anchor text
✔️ Analyze the domain authority of your competitors
✔️ SEO extension for Chrome and Firefox browsers
Pricing
Majestic SEO offers a free plan with limited features and a paid plan starting at $49.99/month.
The free plan has many features that allow users to check external backlinks, the freshness of backlinks, referring domains, and more.
Hunter.io is a simple but powerful link-building tool that allows users to find email addresses associated with any domain name.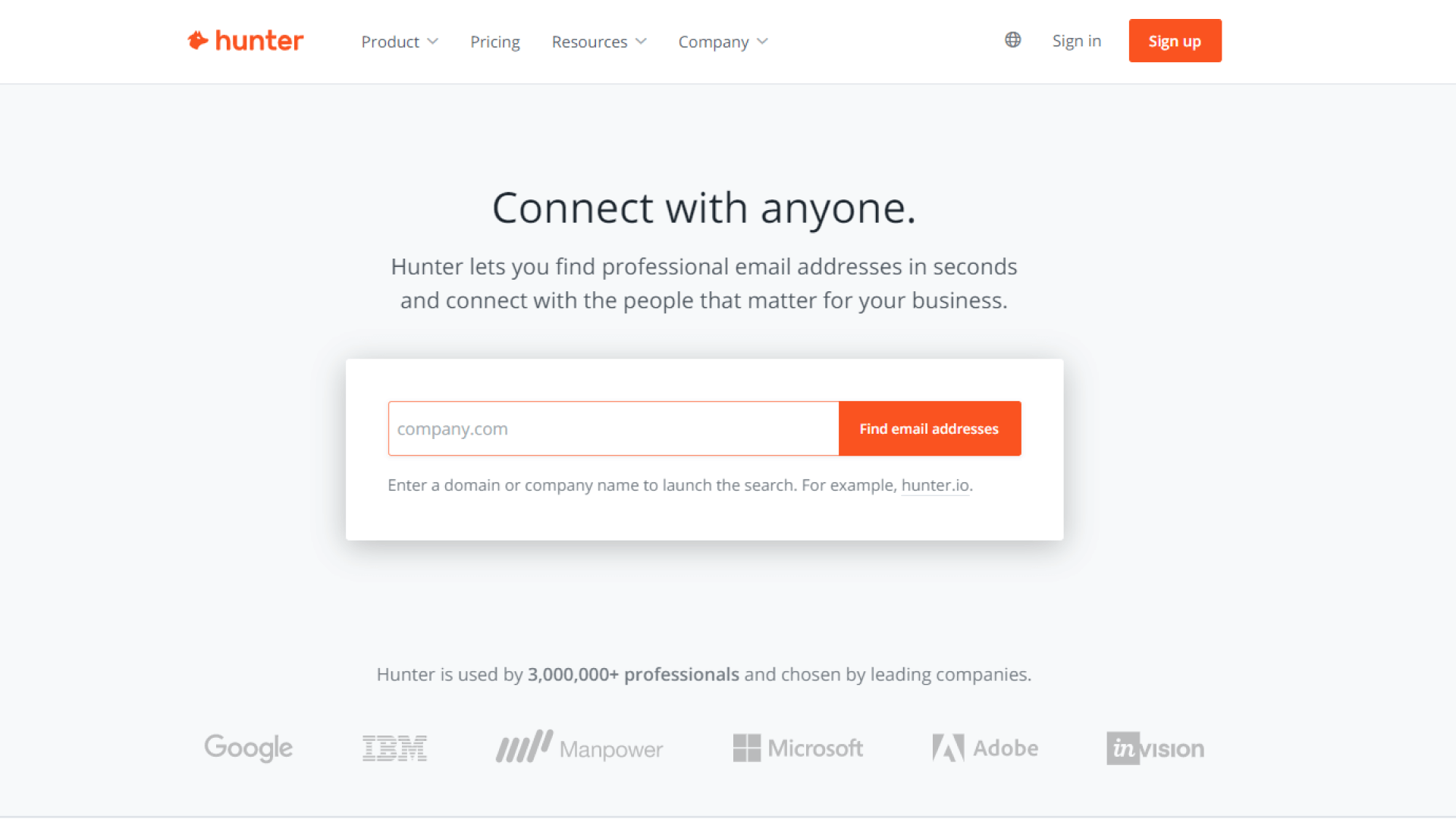 This helps find contact information for guest blogging or reaching out to other websites for backlinks.
Hunter.io offers email verification to tell you whether an email is in active use or not.
Natalia Brzezinska, Marketing & Outreach Manager at PhotoAiD, elaborates:
"With just a website URL, Hunter.io can quickly generate a list of verified email addresses for key people at the company, saving you time and increasing the likelihood of successful outreach."

"The free version allows you to find 50 emails per month, while upgraded plans offer more searches and features, such as bulk email searching and the ability to connect with CRM integrations."
How It Works
A common issue with outreach email campaigns is finding the correct contact information.
That's where Hunter.io comes in.
With this tool, you can find all the email addresses of almost anyone in a company or emails associated with a domain, making it easier to connect with potential partners and customers.
Benefits
✔️ Easily finds email addresses by domain research and contact information
✔️ Accurate email verification
✔️ Easy-to-use interface
✔️ Google Chrome browser extension
Pricing
The free plan is limited to finding 25 email addresses each month. The paid plans start at $49/month.
Google reigns supreme in the search engine world, but when it comes to link building, you need more than just a search engine.
Google Alerts is a feature that allows users to input specific keywords they would like to be notified about.
For example, you can enter your keyword or keywords, and Google will email you every time it finds new content with your keyword(s) included.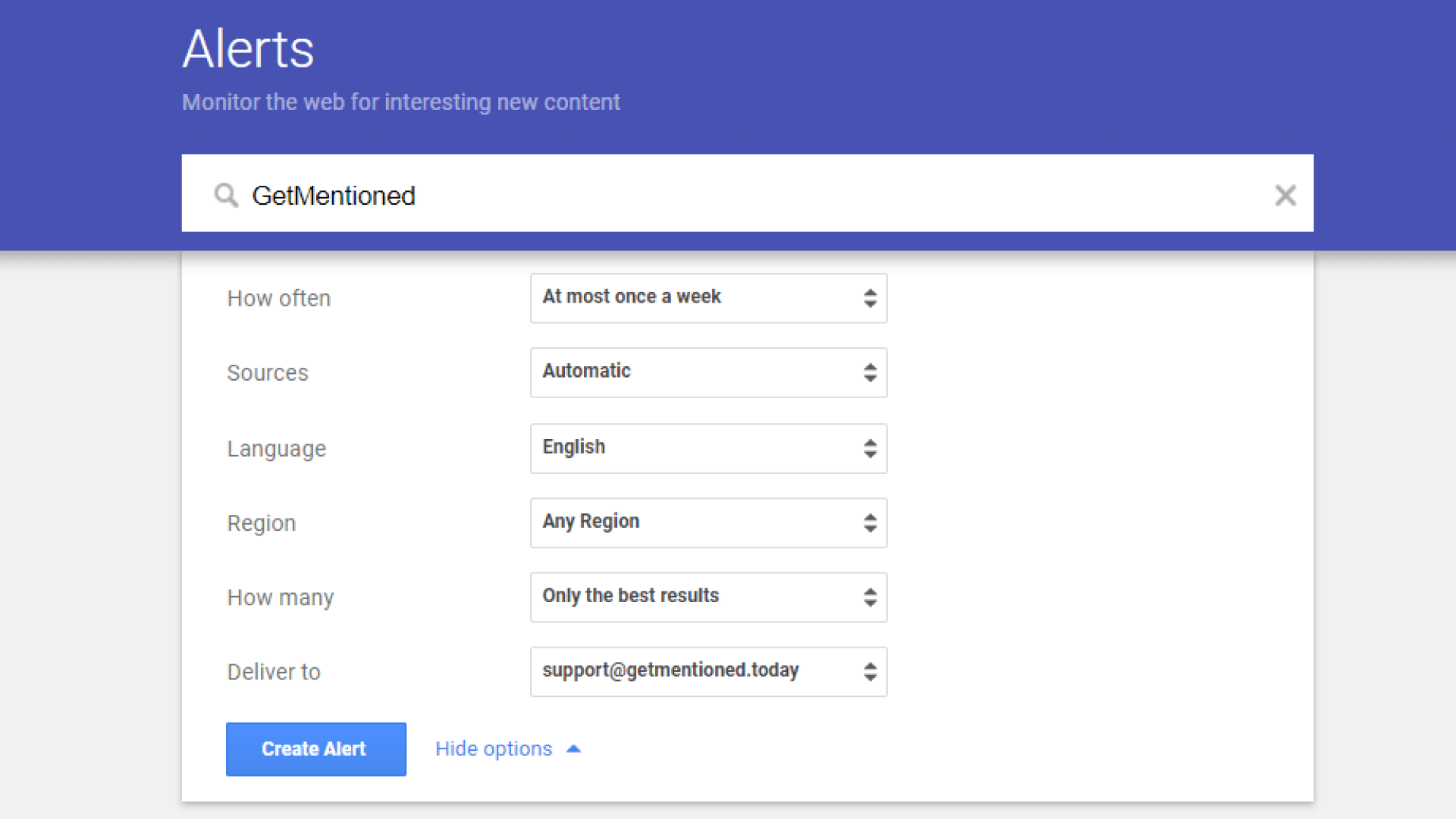 Being responsible for a website or e-commerce business is no easy feat, but this free tool will help take some weight off your shoulders.
All you have to do is click a few times, and voila!
How It Works
This free link building tool is simple to set up and use.
Go to the Google Alerts website and type in the keywords you want to be alerted about.
You can choose to receive your alerts as they happen, once a day or once a week.
Then, sit back and wait for Google to notify you of any new content that contains your keywords.
Benefits
✔️ Find brand mentions quickly
✔️ Can be used for keyword research
✔️ Keeps you updated on the news in a specific industry or related topics
✔️ Track customer reviews, both positive and negative
Pricing
Unlike most free link-building tools, Google Alerts is free to use.
Google Search Console is a free tool that allows website owners to check the indexing status and optimize the visibility of their websites.
Search Console is a great free link-building tool because it helps you track your website's performance in Google search results.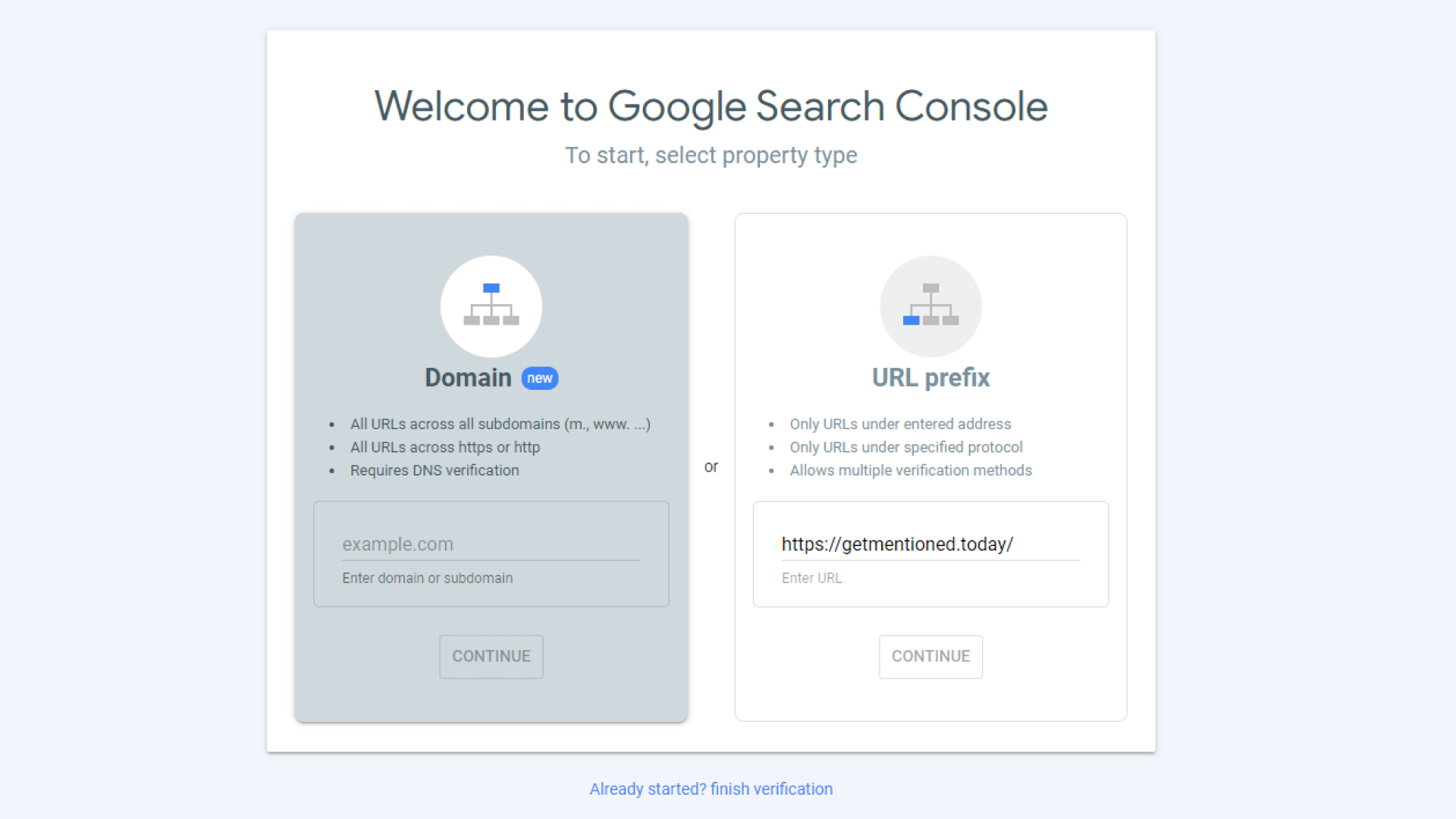 By doing so, you can check which of your backlinks are still helpful for boosting your domain authority and which are broken links.
How It Works
To get started with this free backlink checker tool, you must first add and verify your website.
Once you have done so, you will have access to a variety of features and tools.
With this tool, you can see which websites are linking to your site and the quality of those links.
If you notice any low-quality, spammy links, or broken links, you can use the disavow tool to remove them.
Benefits
✔️ Lets you know that Google can find and index your website
✔️ Analyze traffic coming to your site from Google
✔️ Track the most popular keywords that lead people to your site, and see how often these users return
✔️ Monitor the number of backlinks on your site and who is linking to you
✔️ Discover problems with your site design that may hinder your SEO
Pricing
Google's Search Console is completely free to use.
At Getmentioned, we truly adore this app and consider it our favorite one because of its multifunctional performance.
We devoted the article to how to do a backlink analysis of any website using Ahrefs.
Ahrefs is an effective link-building tool that makes it easy to find new opportunities for your campaign.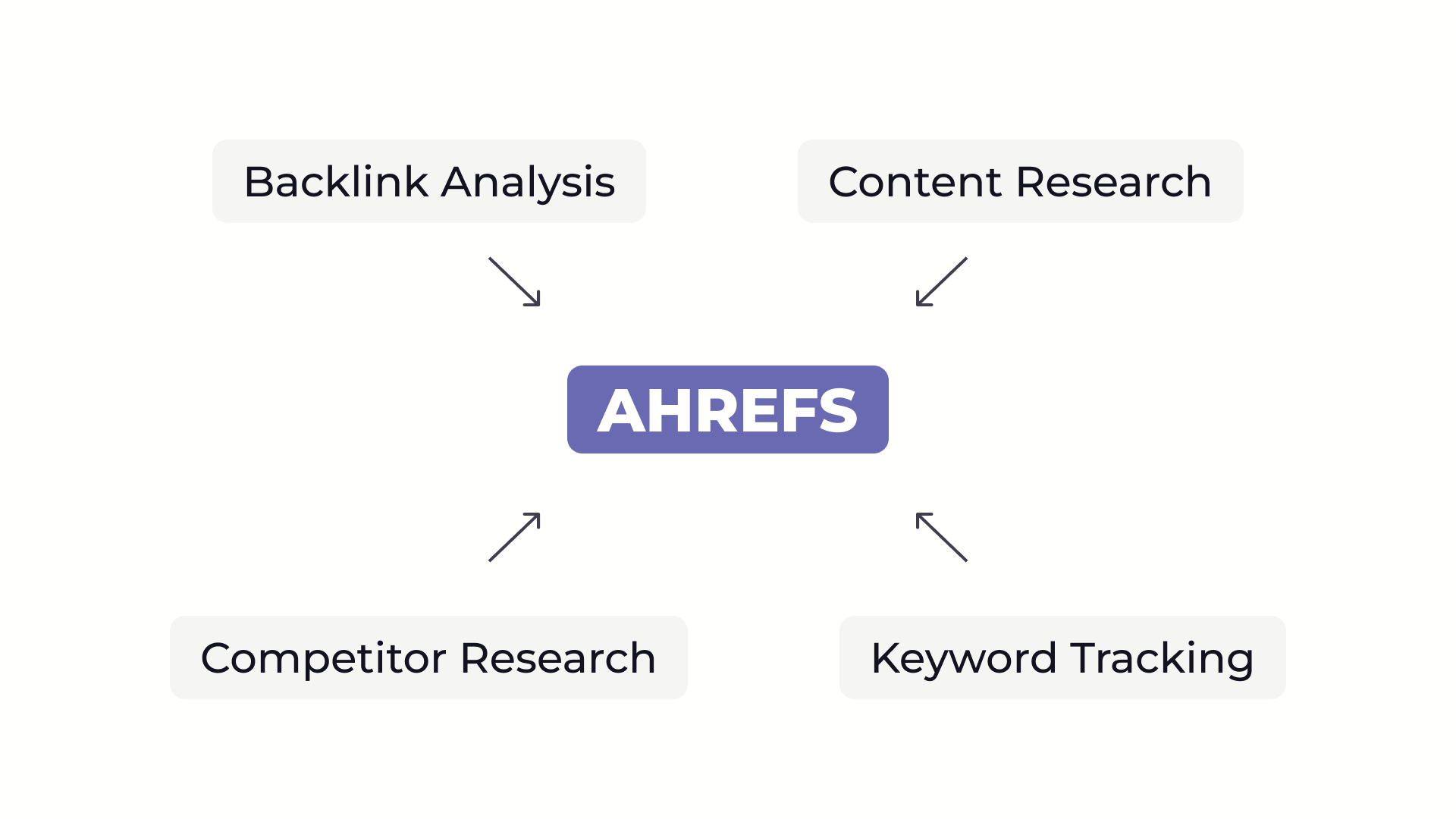 Backlink Checker is another great selling point about Ahrefs.
This feature works great to check backlinks in a given website, get detailed information about their backlink profile, and check for any single broken link including inbound links and outbound links.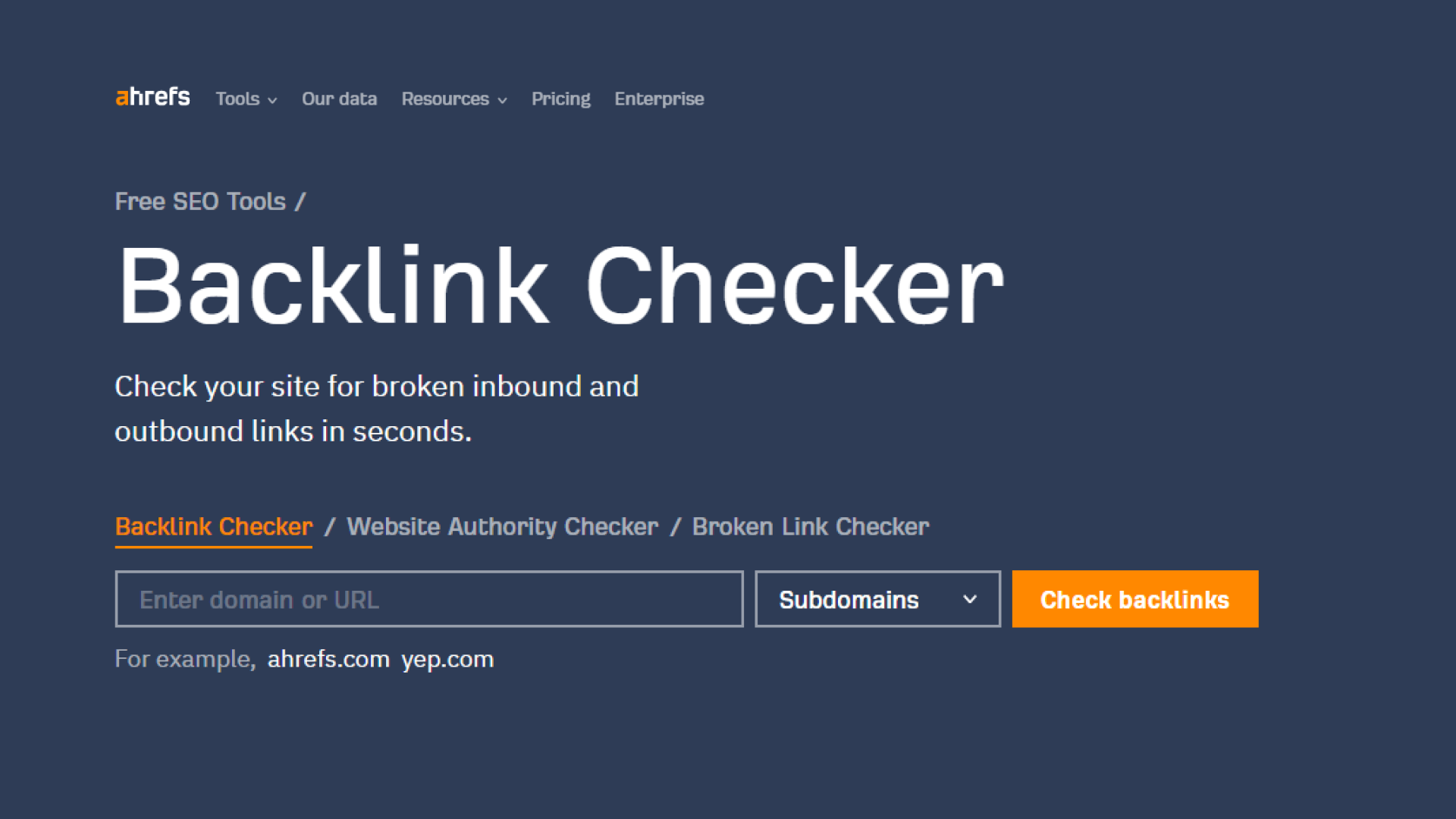 How It Works
Ahrefs is an extremely complex link-building tool that contains a bunch of features for abundant goals.
Site Explorer is a handy tool that lets users check the backlink profile of any website. This comes in handy when you're trying to identify prospective link building opportunities.
Content Explorer feature enables you to find popular content in their niches.
For example, if you want to find link prospects for a blog post or guest post about the best waffle makers of 2022″, use Ahrefs' Content Explorer to find the popular or trending content in the niche.
Benefits
✔️ Perform keyword research for search engines
✔️ Get total search traffic estimates
✔️ See historical data on backlink growth or decline
✔️ See keyword click distributions
✔️ Analyze SERP history and ranking history
✔️ Monitor internal backlinks and analyze outbound links
✔️ Find link-building prospects with Content Explorer
✔️ Get keyword ranking alerts
Pricing
Ahrefs offers a 7-day trial for $7. After the trial, Ahrefs plans start at $99/month.
Respona is an email outreach tool that helps users to find contact information for potential link-building partners.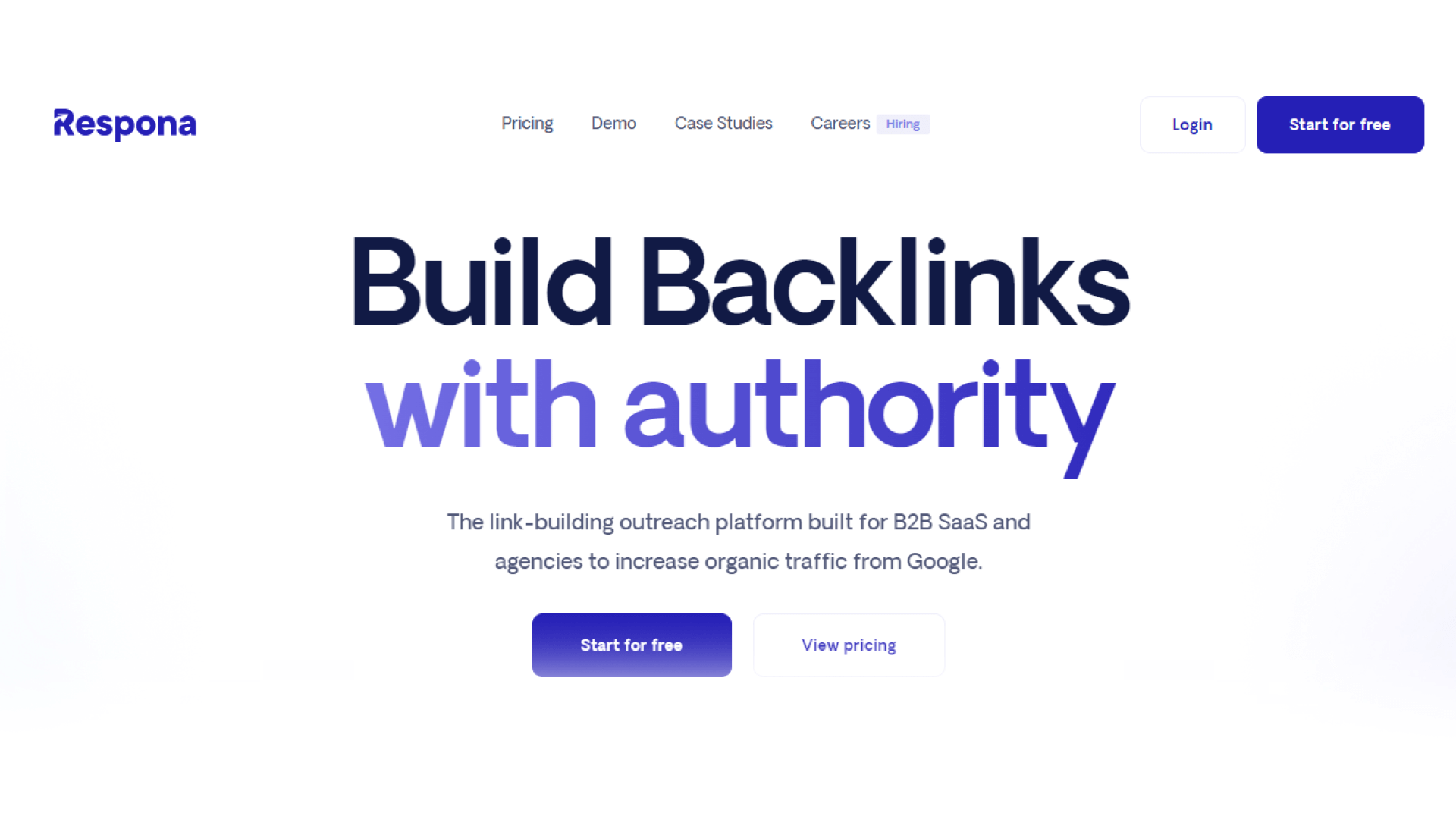 This tool is equipped with everything you need to establish and launch an email campaign of any type, whether for link building, digital PR, marketing, or sales.
How it Works
Respona is integrated with Ahrefs, Google and the popular SEO tool Semrush. Thus, it can provide domain ratings, traffic, and other data.
An email finder is included, making it easy to find the right person's contact information.
Respona's interface makes it easy for you to create and launch your outreach campaigns, track your performance as well as the conversations statuses of each of your projects.
Benefits
✔️ Allows for pitching unique emails at scale
✔️ Great prospecting features and class-leading versatility
✔️ Built-in contact database to store all your contact data
✔️ Includes a HARO management module
Pricing
Respona offers a 7-day free trial and starts at $99/month. There is also an unlimited plan for $499/month.
With Backlinks Generator, you can keep track of the quantity and quality of links on your project as well as your competitors.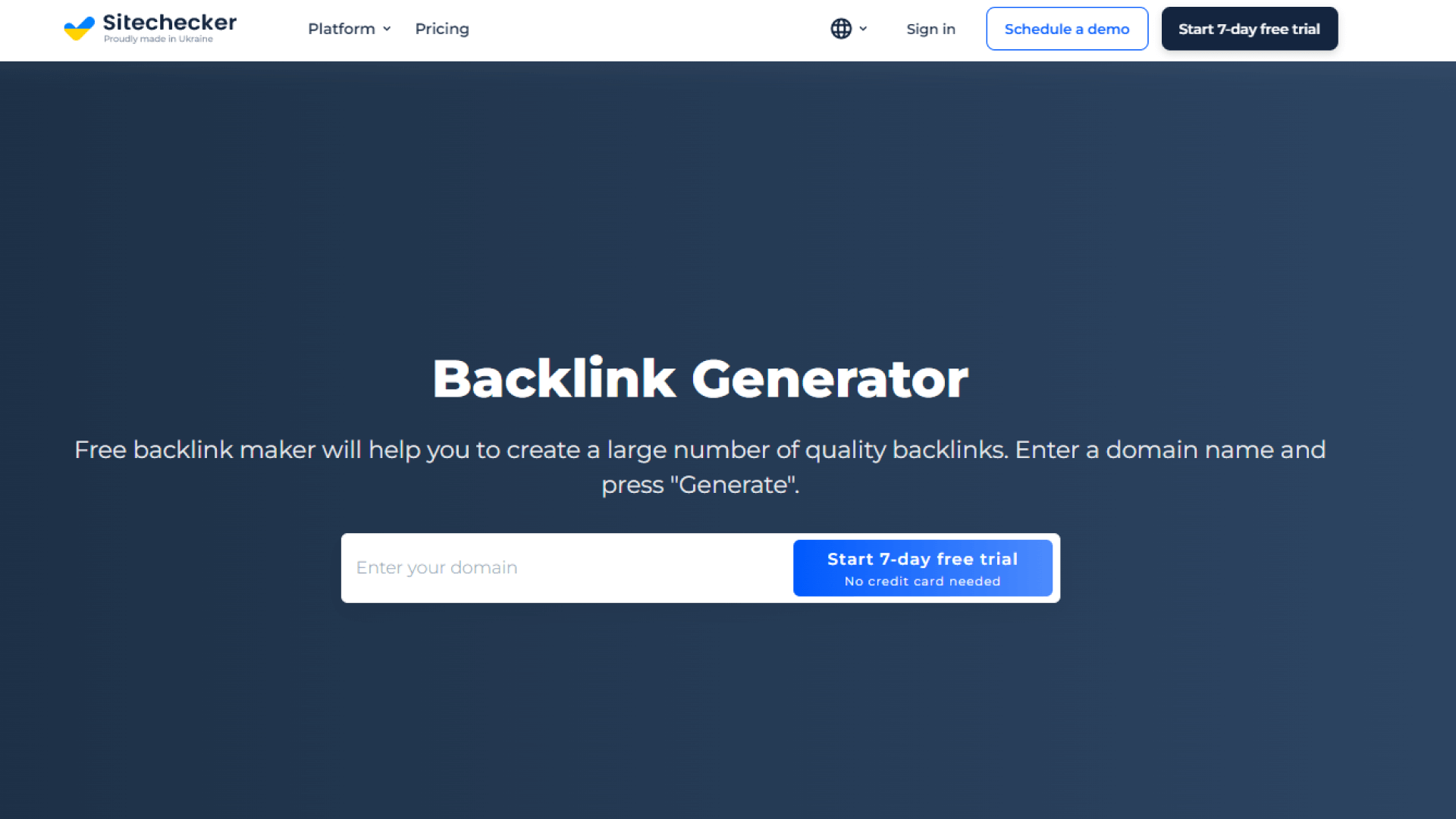 Besides generating links, this tool also provides a comprehensive website audit report. This is useful for identifying any potential problems and resolving them quickly.
How It Works
Backlinks Generator Tool allows free links to any page you want.
It quickly builds indexed backlinks from other websites so that your website can receive more traffic. Free links may include internal links and external links.
Benefits
✔️ Import valuable links and store them in one place
✔️ Check and track the statuses of your indexed backlinks
✔️ Alerts about non-indexable links
✔️ Identifying backlink anchors
✔️ Detecting pages with the most effective backlinks
✔️ Evaluating and reporting link-building strategies
Pricing
Pricing starts at $29 per month, with maximum features available starting at $99 per month.
This is another free link-building platform that connects businesses with journalists looking for sources for their stories.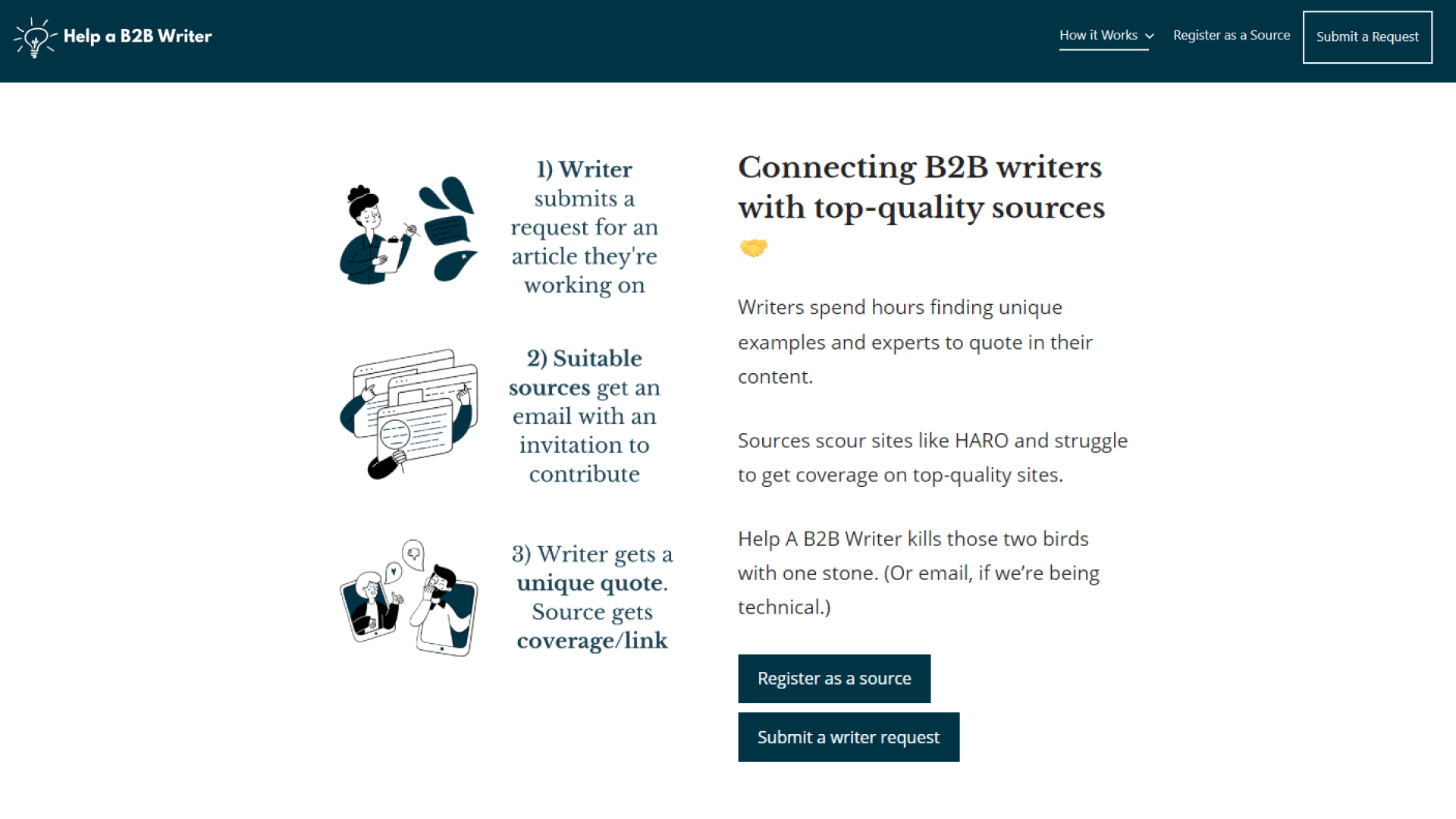 Anyone can be a writer at HelpB2B as long as they have an idea for an article and can provide references.
How It Works
HelpB2B is very similar to HARO in that it sends you daily emails with opportunities to be featured in the media.
You can sign up for keyword alerts so that you will be notified whenever a journalist is looking for a source on that topic.
Send a pitch to the journalist through the HelpB2B platform to apply as a source.
If your pitch is selected, your name and website will be featured in the publication.
Benefits
✔️ Build relationships with journalists, bloggers, and content creators in your niche
✔️ The bonus of being featured on high-quality websites
✔️ No cost associated with signing up or sending pitches
Pricing
HelpB2B is free to use, but there's a limitation up to 3 requests per week.
Moz is a software company that specializes in SEO tools.
It's an effective free link-building tool because it offers a suite of useful products, including the MozBar extension.
The MozBar is a free chrome extension that allows you to see many SEO metrics while browsing the web.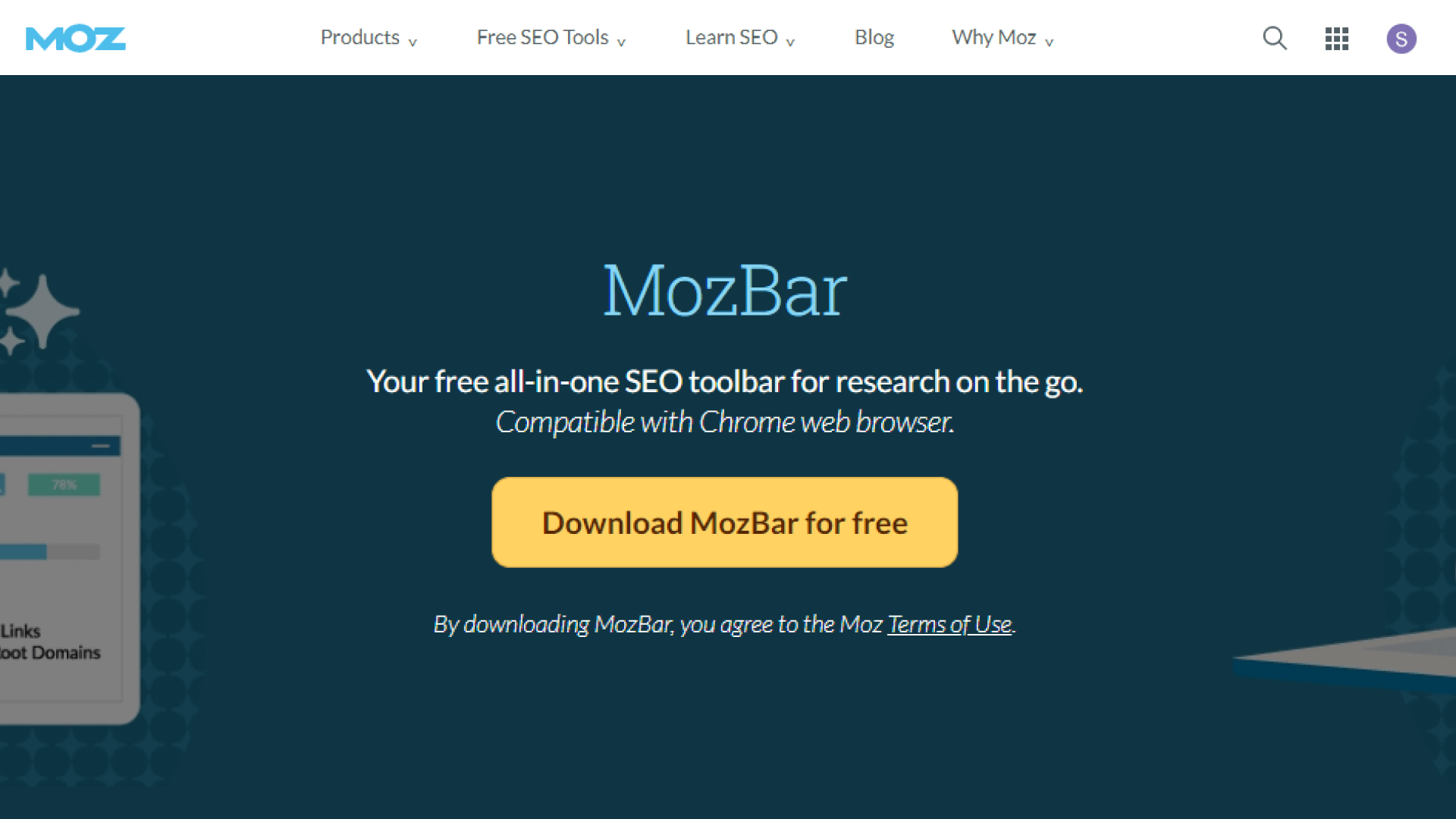 How It Works
MozBar is a free browser extension that gives instant access to crucial SEO metrics while browsing the web.
Install the extension, and then you will see the Domain Authority, Page Authority, and linking opportunities for any web pages you visit.
Benefits
✔️ Provide useful information about competitors' websites
✔️ View any webpage's link details like internal links, external links, do-follow links, and no follow links.
✔️ Great for keyword research
✔️ View link metrics about all the SERPs (Search Engine Results Page).
Pricing
MozBar is a free browser extension. If you need additional features like rank tracking and more backlink information, there is MozPro. The MozPro starts at $99 per month.
HARO (Help A Reporter Out) is a tool that helps connect journalists with sources for their articles. It's an effective link-building tool because it lets you get your website mentioned in high-quality publications.
This is what Christine Brownstein, Chief Marketing Officer, at Palaleather UK said.
"HARO links journalists looking for knowledge to add to their writing with experts. Despite the fact that it is a competitive sector, one out of every twenty pitches will generally guarantee you a link."

"Meanwhile, you must have a field in which you can call yourself an expert since in order to get links, you must supply meaningful answers to bloggers and journalists."
How It Works
HARO is a platform that connects journalists with sources for their articles. When you sign up for HARO, you will receive daily emails with opportunities to be featured in the media.
These opportunities are categorized by industry, so you can easily find relevant ones for your business.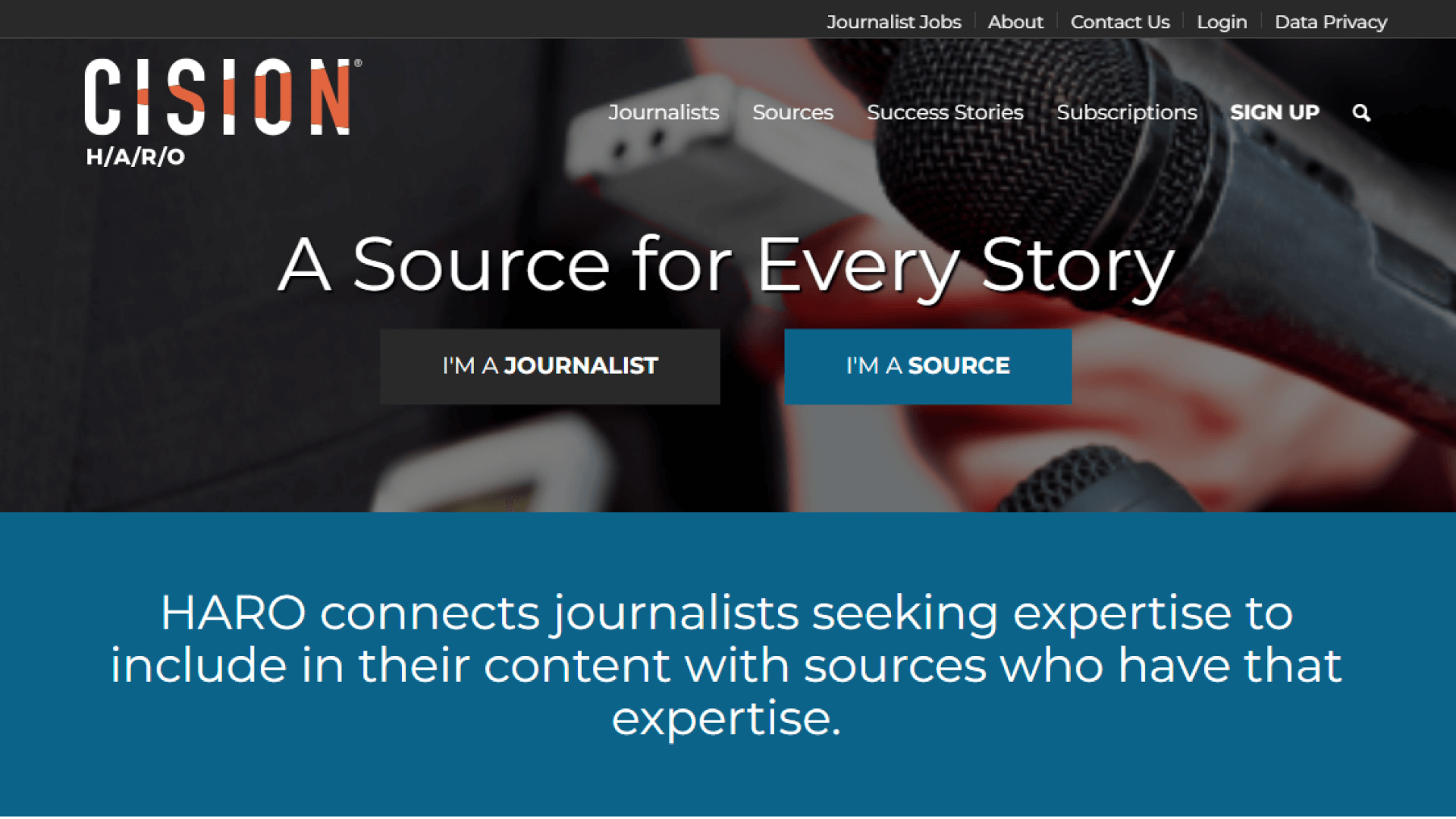 To apply as a source, send a pitch to the journalist via email.
If your pitch is selected, your name and website will be featured in the publication. This is a great way to get quality backlinks from reputable sources.
One of the unique features of HARO is keyword alerts.
This allows you to set up alerts for certain keywords so you will be notified whenever a journalist is looking for a source on that topic.
Benefits
✔️ Increased exposure and brand awareness
✔️ Improves search engine rankings and enhanced credibility
✔️ Get high-quality backlinks from high-DA sites
✔️ Great way to build relationships with journalists and editors in your niche
Pricing
HARO is free to use.
There is also a premium subscription available for $19 per month.
Next, we have Buzzstream, a tool that helps you manage your link building efforts and track your progress.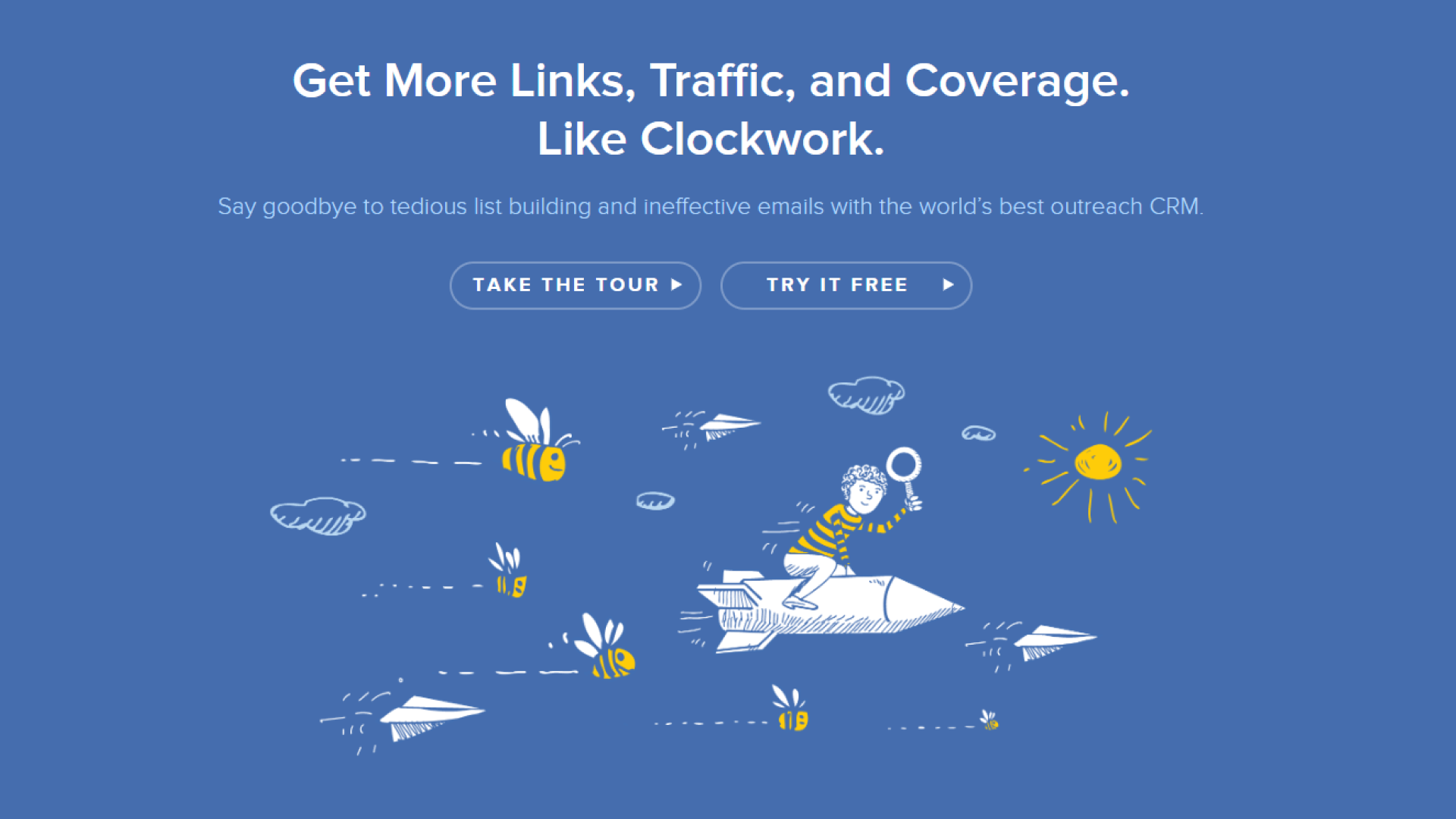 Buzzstream's main features are link building, research, and tracking.
It starts by helping you find potential link partners.
Once you've found some potential link partners, you can add them to your custom list and start outreach.
How It Works
First, select only the most useful websites to add to your database based on your metrics.
With your contact list in-hand, you can send customized bulk emails or personalized one-on-one messages that achieve your desired results.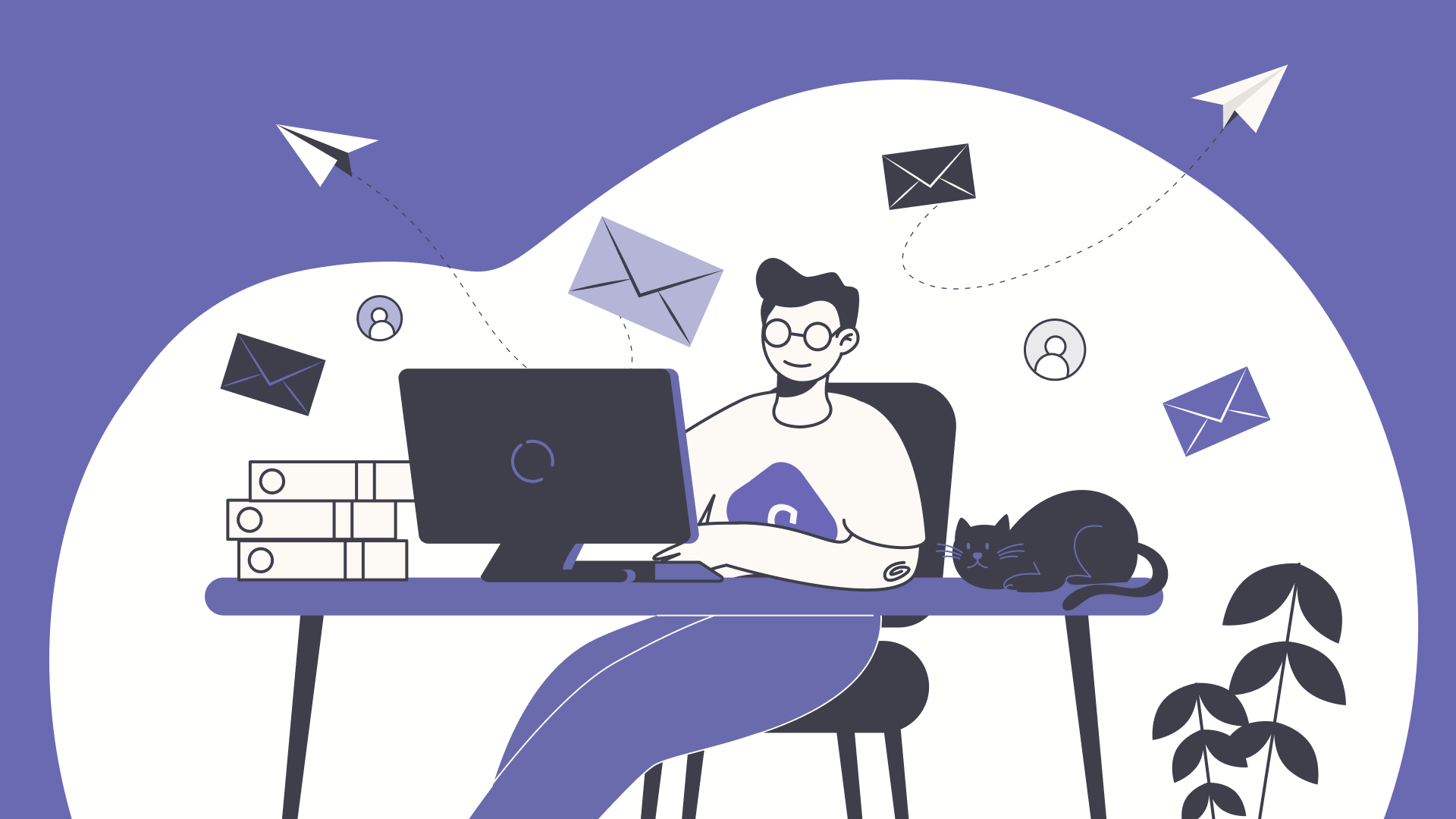 Lastly, track your progress by keeping all communications in a central place. Use Buzzstream's reporting features to see what's working and where you need to improve.
Benefits
✔️ Finds contact information, social media profiles, and site metrics
✔️ Provides fully customizable and simplified reports
✔️ Monitors links for outreach strategies
✔️ Monitor and manage your organic rankings
✔️ Offers keyword and link building opportunities
Pricing
Buzzstream starts at $24 per month for the basic plan. Larger plans are also available for larger teams. A free trial is offered for 14 days.
Finally, on our list is SEMrush, which is regarded by many as one of the most feature-packed all-in-one SEO tools on the market.
How It Work
SEMrush is an all-in-one SEO platform that offers a suite of tools for link building, keyword research, and competitor analysis.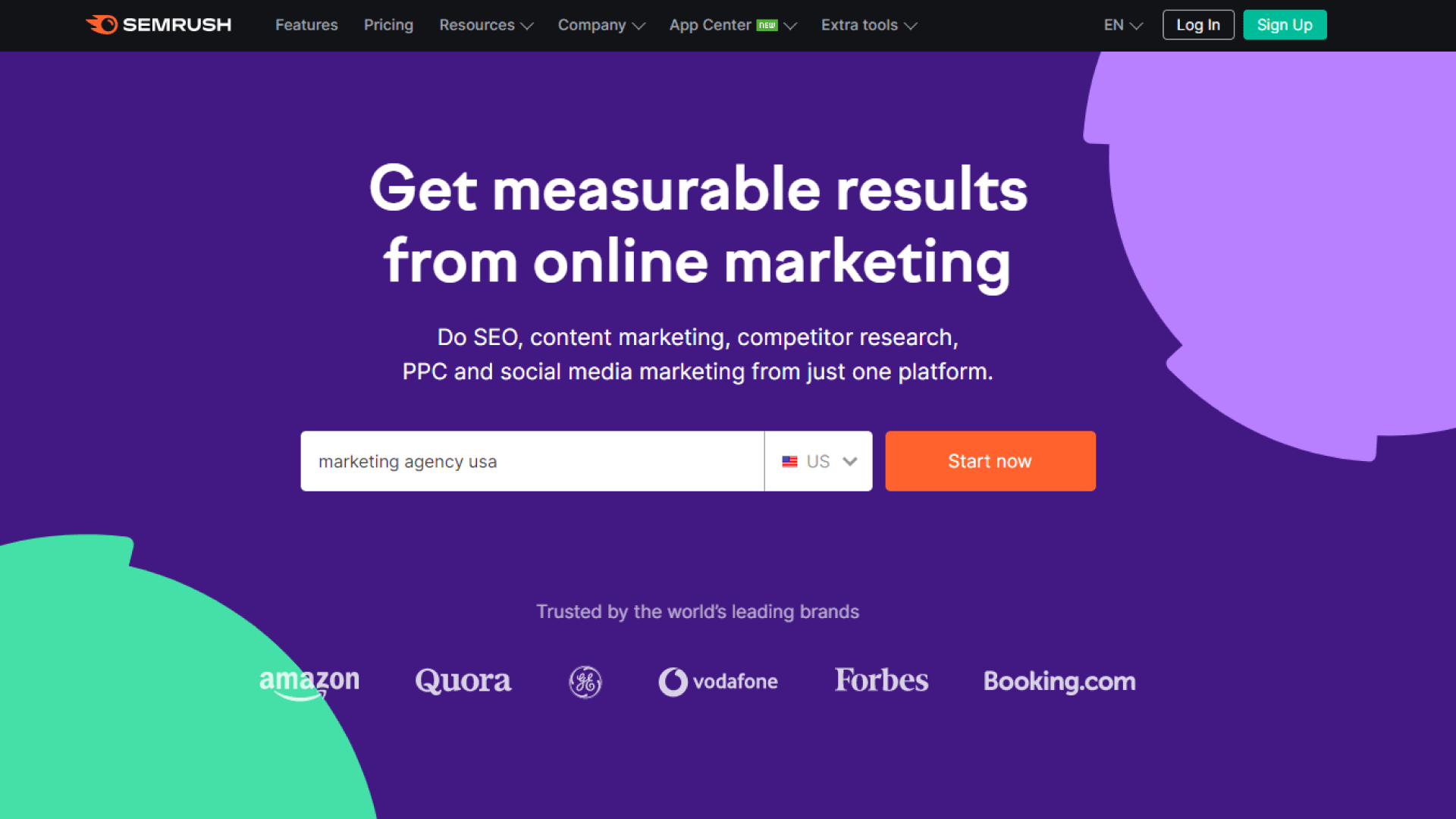 Semrush lets you discover new link-building opportunities using their massive database of over 43 trillion backlinks.
Backlink Gap tool allows you to identify domains that are linking out to your competitors but not to you.
With the outreach module, you can send personalized messages to your list of link prospects to build links.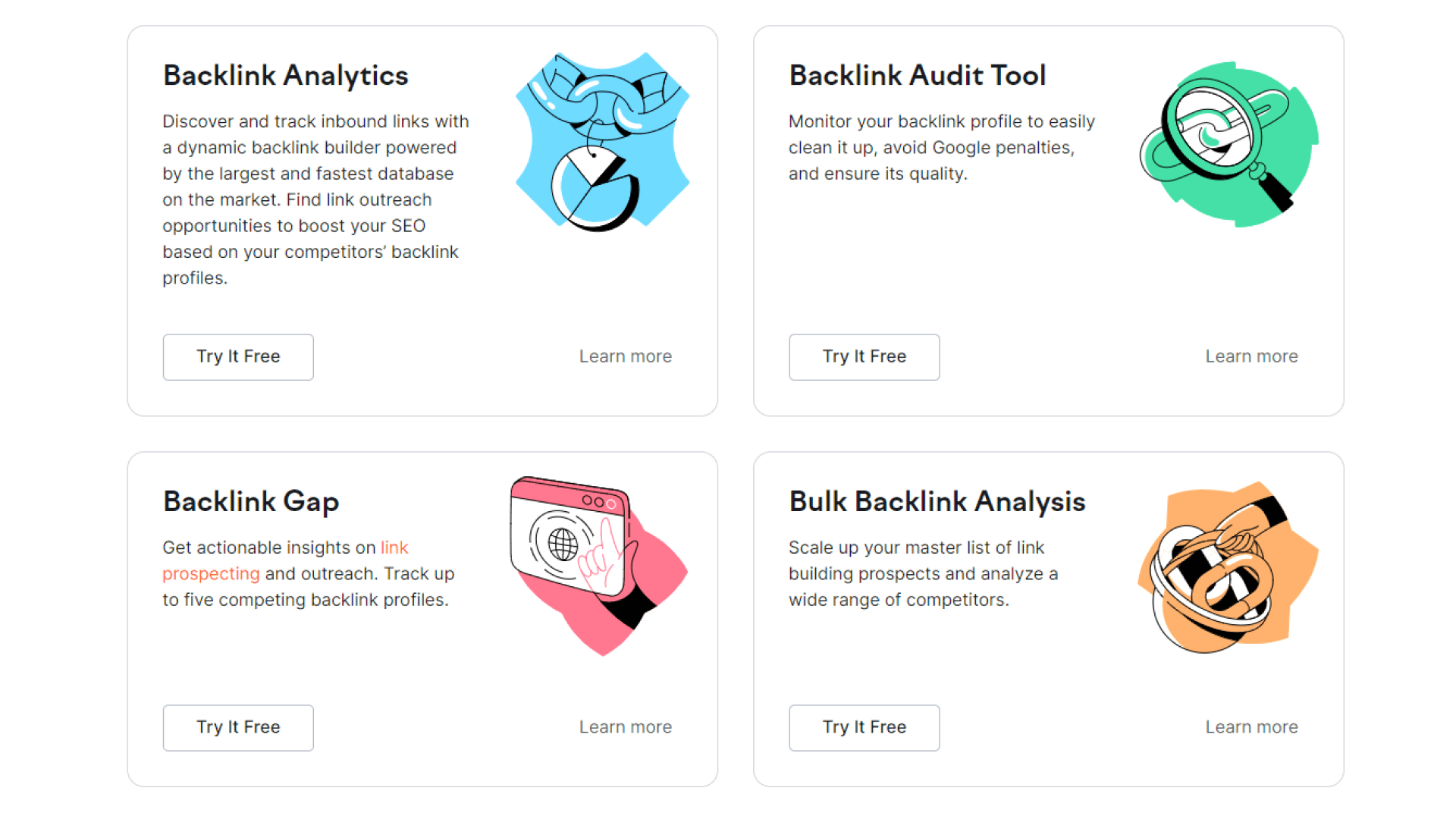 We use SemRush to keep an eye on our clients' backlink profiles to ensure that the new backlinks we've acquired don't suddenly disappear.
Benefits
✔️ Analyze and monitor your site's performance against competitors
✔️ Get deep insights to look at your competitors
✔️ Brainstorm new content ideas for blogs
✔️ Create writer and SEO-friendly templates
Pricing
SEMrush starts at $99.95 per month, with discounts available if you purchase a yearly subscription. A free trial is also available.
3 Favorite Apps We Use For Link Building (It's A Secret!)
Before we get into the three secret apps, sign up for our free newsletter, where we share even more secret apps, tips&tricks, and effective link-building strategies in the upcoming year.
With Linkjoy, you can turn one-time visitors from social media into loyal, paying customers.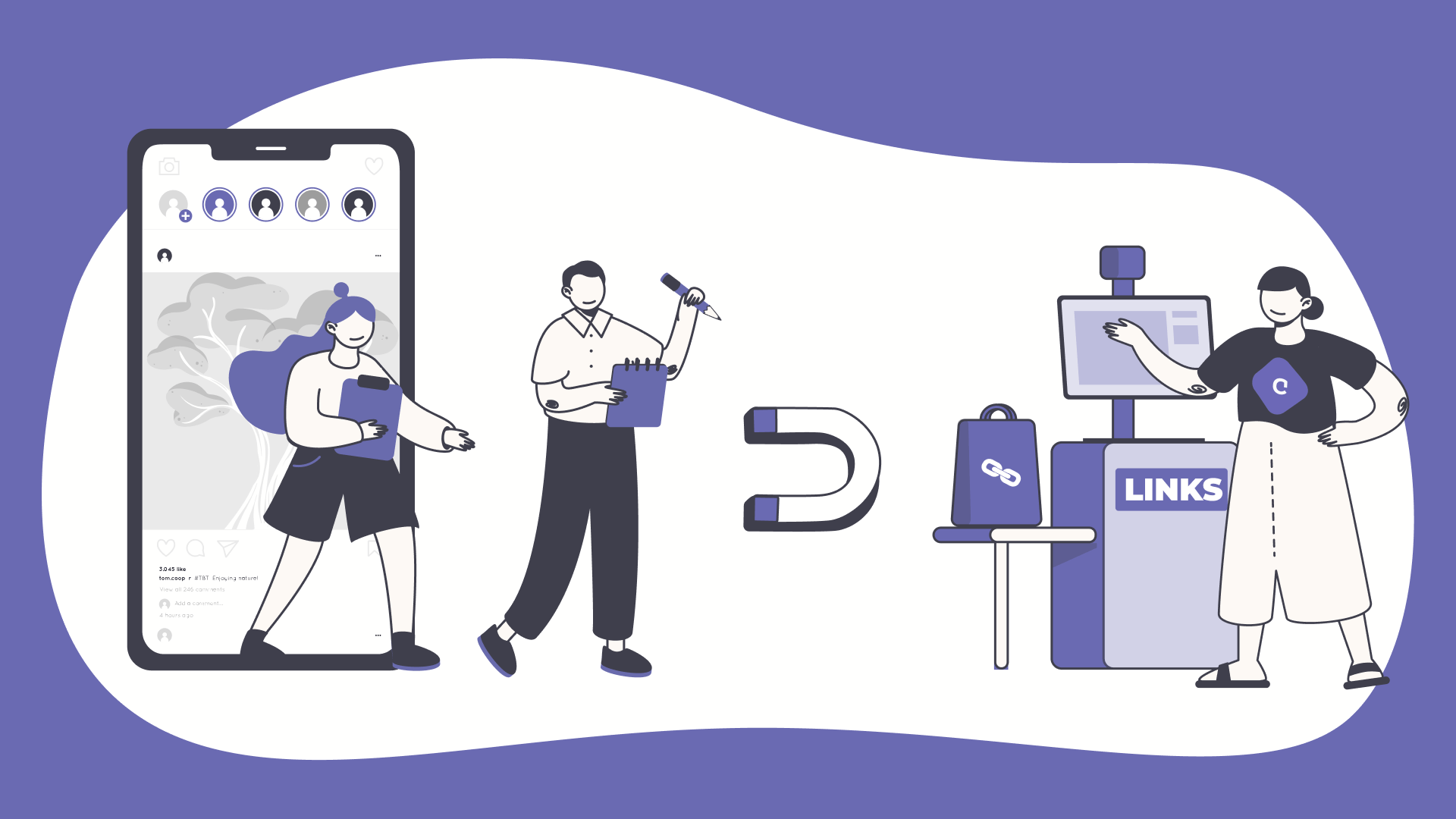 Too often, social media users have a ton of followers but few paying customers.
Linkjoy reverses this by helping you create mobile pages to track, analyze and retarget all of your visitors.
Linkjoy's Link in Bio feature makes it easy to create mobile-friendly micro landing pages using themes and customizable layouts so more people can read your blog post.
You can also drive traffic to your website by adding links to your services, products, and videos.
Pricing
Linkjoy starts at $49 for a single user at AppSumo.
Retargetify is an advanced link management tool that helps you drive conversions and sales using simple, powerful, and recognizable branded links.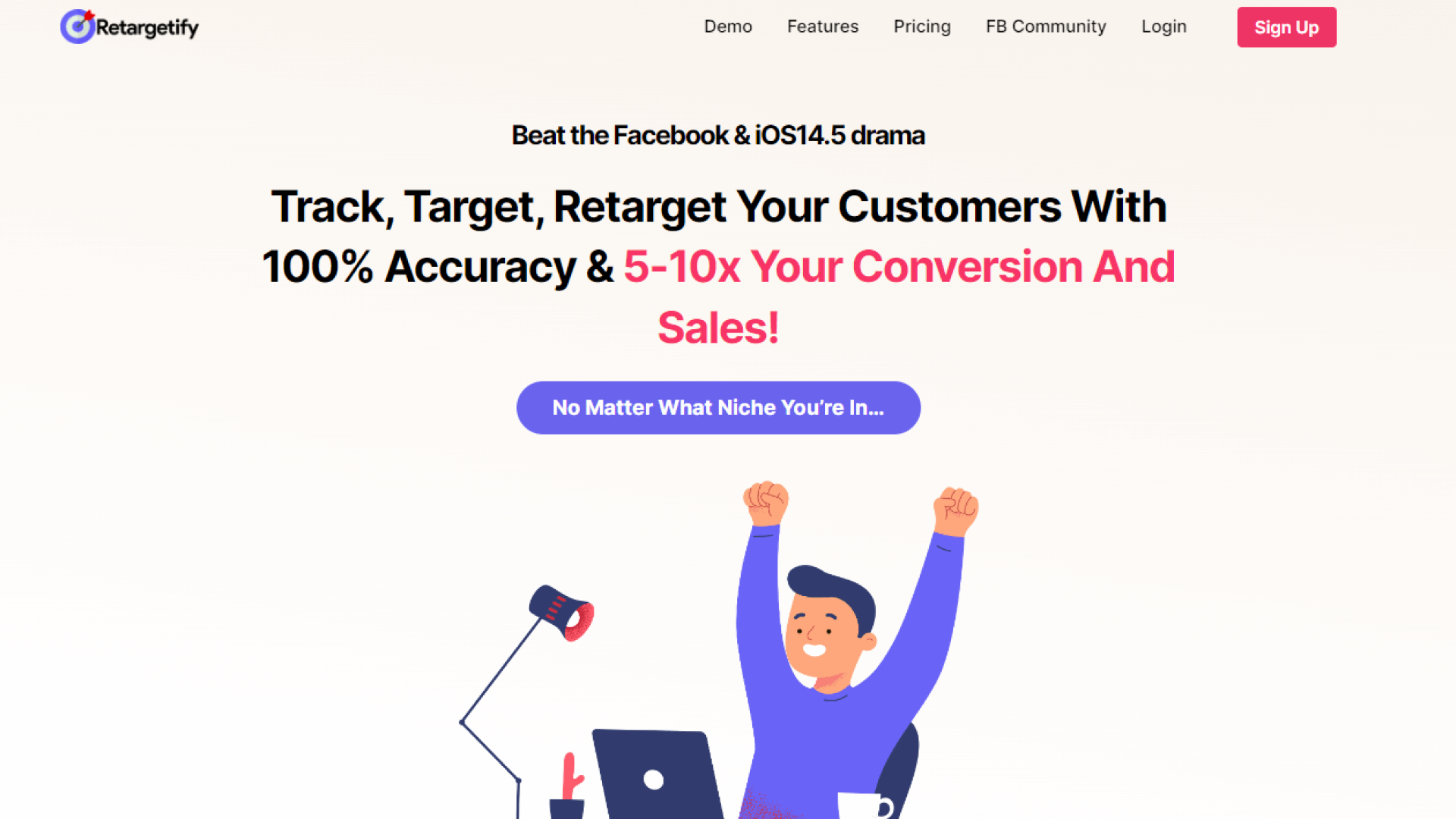 Benefits
✔️ Shorten, customize, and track link performance
✔️ Monitor traffic with the UTM builder
✔️ Reach your consumers most efficiently
✔️ Redirect visitors who click on your links to your social networks
Pricing
Retargetify starts at $49 for lifetime access at AppSumo.
Postifluence makes it easy to increase your website ranking with backlinks, find affiliates, and publish, and accept guest posts.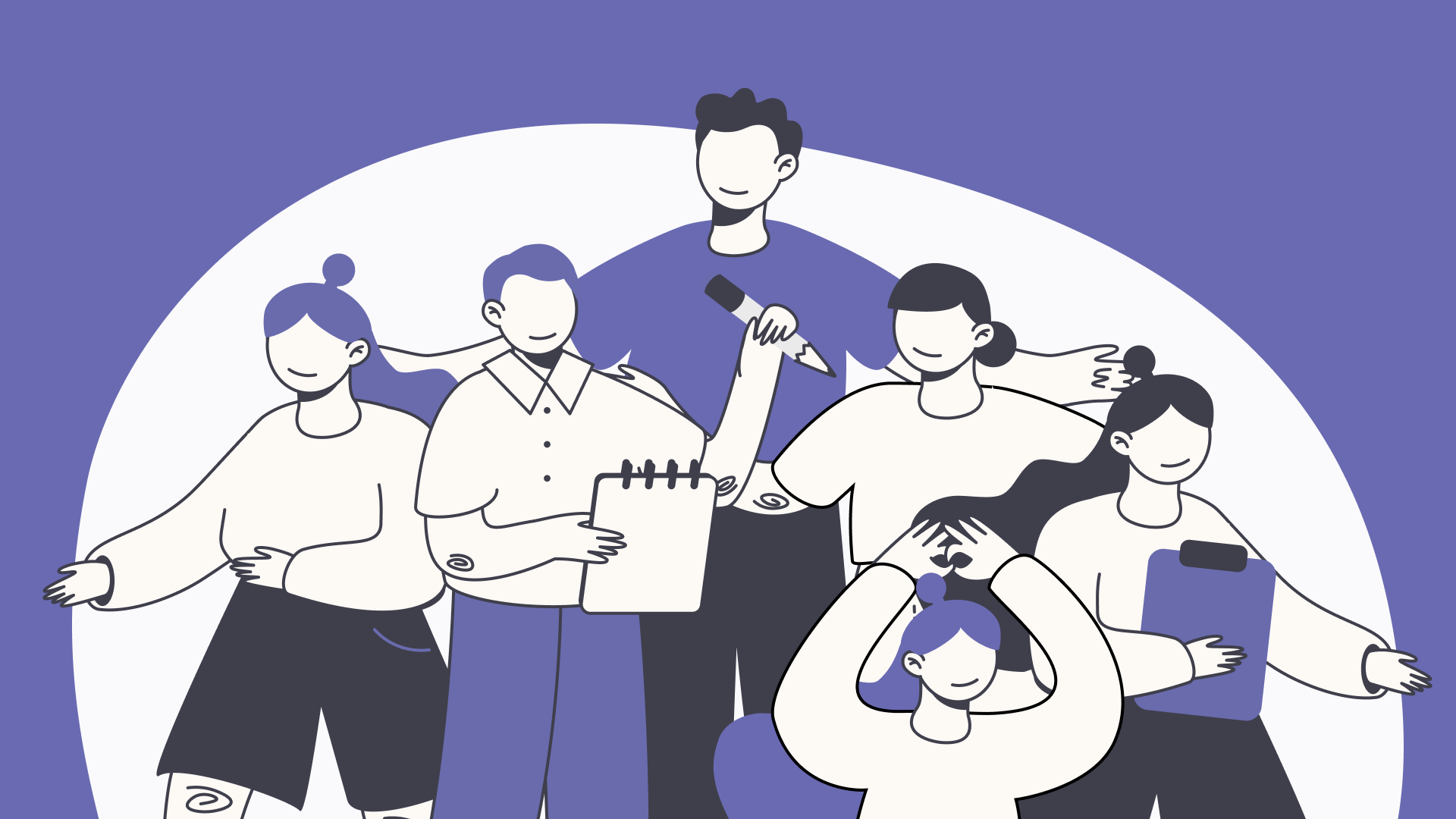 Benefits
✔️ Quickly finds you hundreds of high-quality blogs and sites.
✔️ Helps to build listings for free or very cheaply.
✔️ Gives you precise data about your blog's ranking, traffic, and backlink value.
✔️ Creates engaging and effective marketing emails for your campaigns.
✔️ Allows you to link up with other potential guest-posting opportunities.
Pricing
The regular price for Postifluence Pro is $104 per year at AppSumo. To get the Elite version, it's an additional $67 upgrade.
FAQs
1. What is a free backlink?
A free backlink is a link from another website to your website that doesn't cost you anything.
2. What are your top 5 favorite free tools?
Our favorite tools are Ahrefs, Google Alerts, Hunter.io, Google's Search Console, and Moz.
3. How much time does it take to build a free link?
It depends on the tool that you're using and how many links you want to build, including fixing broken links.
If you're just getting started, it might take a little bit of time to learn how to use the tool effectively – up to two months.
TL;DR
The article discusses 12 different tools that can help with link building.
Ahrefs, Google Alerts, Hunter.io, Google's Search Console, Moz, and Buzzstream are some of the most popular and used link builder tools.
These tools can help with everything from link prospecting to tracking progress.
We recommend Ahrefs as a tool that helps manage all interactions and keep track of progress.
Our secret apps are Linkojoy, Retargetify, and Postinfluence.