In this guide, you'll learn:
In this post, I'll briefly explain how the outreach process looks like at getmentioned.
You might be really tired of reading these endless self-promoting "processes" from every agency or freelancer, so let's cut it to the chase.
How's our link building process look like?
First, we'll have a nice quick chat, so we can listen to what has been done and what you're looking for your business.
We will ask some quick questions like:
What's your current link building strategy; how do you get your links now? (in a few words, like with a guest post outreach, we hired an agency/freelancer etc. )
Rankings for which pages will benefit you the most? What are our target pages?
Please share a link to your top1 blog content, the best piece.
What's your expectations from 2, 3, 6 months link building campaign?
We have a proven link building process that we follow, backed up with our actual results, so the next step is to research your niche and prepare for the outreach.
#1: The Setup Stage
Configure google search operators for your product
Scrap SERP for prospects with Netpeak Checker
Check the data for basic metrics with Ahrefs API
Manually research prospects on Linkedin for better results
Configure outreach tools, add personas and signatures (we use Buzzstream)
Prepare a report of the work done in the setup stage
We need prospects for link building, a lot of them.
And for most of our clients in the competitive niches like VPN, Cybersecurity, E-learning, competitor link building has already been done and there are simply no new "easy" opportunities for them.
How do we perform prospecting?
We use a set of google search operators and search queries relevant to your niche
I use intitle, intext, -site, and inurl to find sites that meet the following criteria:
The blog/magazine/news must have a niche relevant article
This article must have a strong relevancy
This article also must contain at least one exact mention of the top keyword from our client site blog piece
For example, here is how it looks for a freelance-tools SaaS product:
intext:"recent posts" + intext:"invoice templates" + intitle:freelance + inurl:tips
We pick niche relevant keywords, related to the main product line or services as main indicators of highly relevant posts.

Then, we create variations of search queries by using combinations of intitle keywords + intext keywords and other search operators.
These 50 searches can give me around 700 raw prospects; after all checks, we expect at least 100 worthy link opportunities to work with.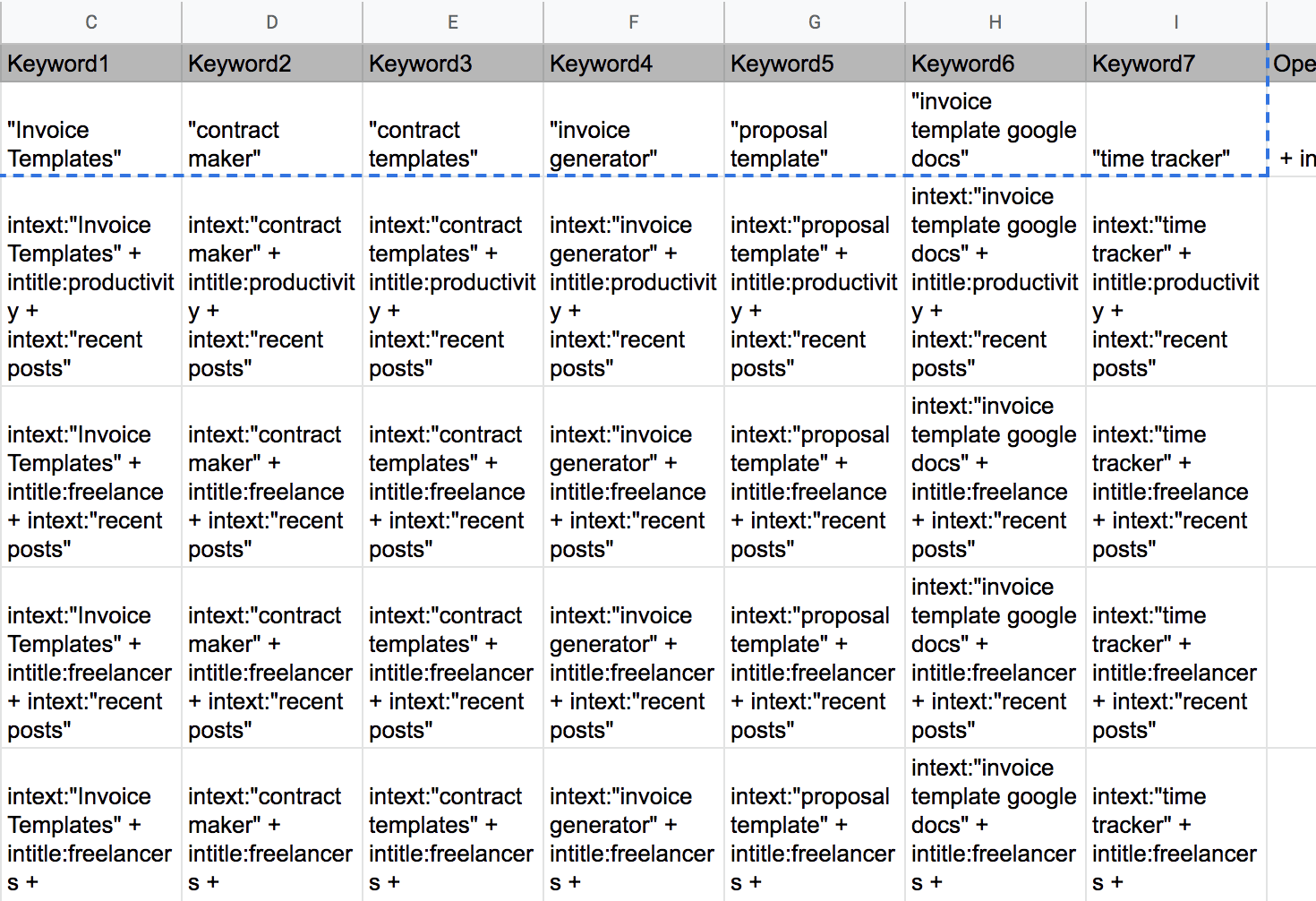 We use a combo of Ahrefs API + Netpeak Checker to parse all of the prospects from Google SERP, check them for Ahrefs Organic Traffic and Domain Rank metrics; we remove from my list all of the sites with low traffic <1k and less than 50 (<DR50)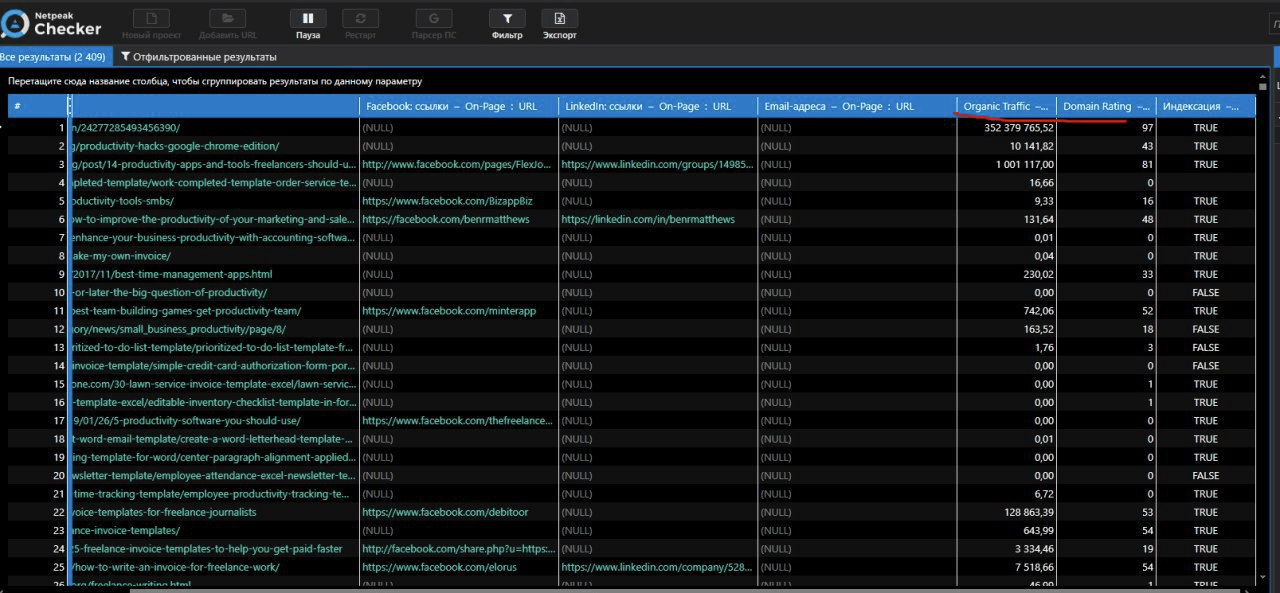 Additionally, we research a list of prospects from my client's top competitors, then we compare gathered prospects domain URLs with your current link profile to avoid a possibility of link duplication from my outreach campaigns.
Who wants to pay for a link that he already has, huh?
How do we research prospects' ?
The key for successful outreach is to address THE RIGHT people, so we've built our process on manual research.
We don't really on lead generation tools, as we find manual research more effective for our cases.
Our research specialists are highly experienced in data mining.
Their job is to manually research each site and find the person who is behind content creation, for example, editor, staff writer, content manager, digital marketing manager, SEO Head, etc, on Linkedin.
Here is how it looks after research work is done: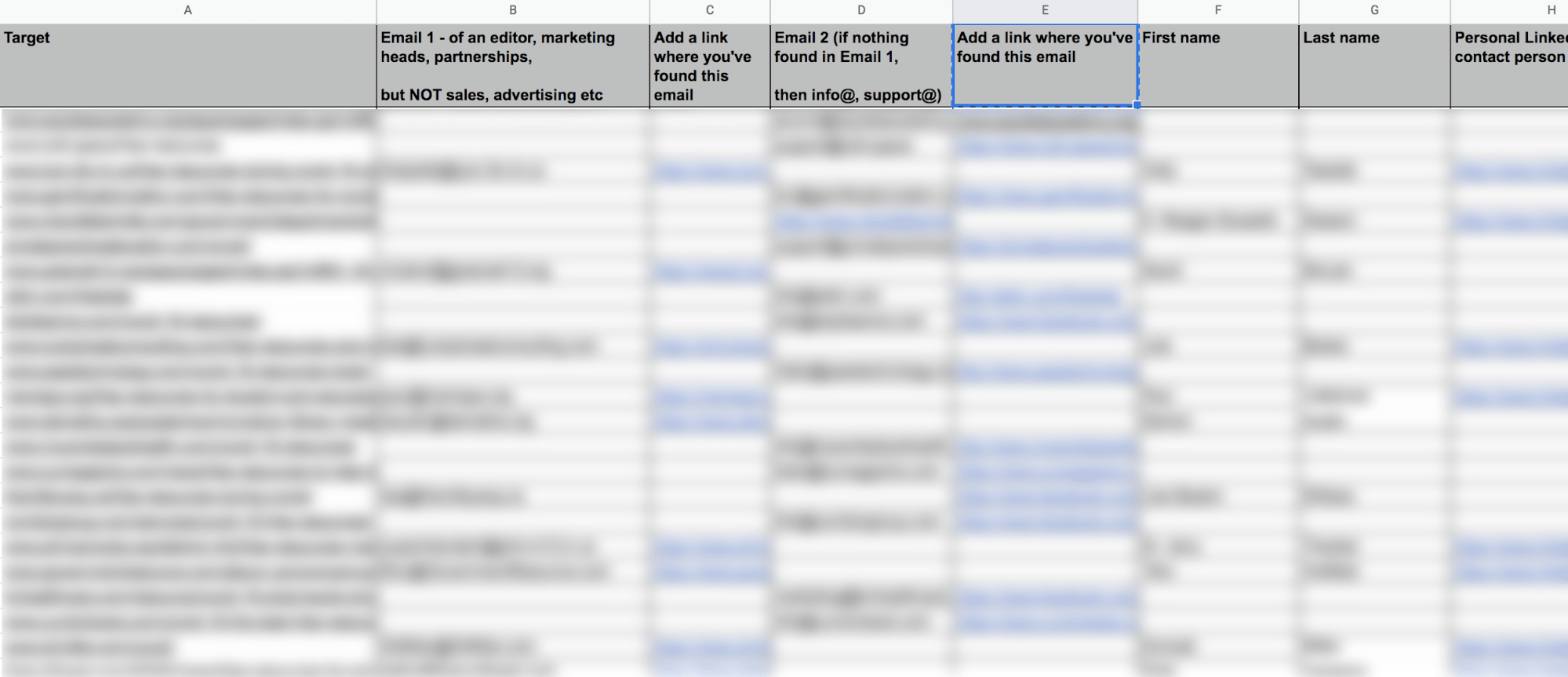 #2: The Outreach Stage
With the right site prospects after our research, a specialist will finish gathering contact data while we proceed to outreach and here is what you need to know:
We tend to avoid sites that are massively selling links,
We look for link opportunities that actually care about their audience,
We give value to them by providing great content, tips, suggestions, useful links, so there's always a mutual benefit,
We don't push with offers or cold pitch the wrong people.
Here are some of the methods I use:
Authority Link Insertions – niche relevant add ons to existing content.
Guest Posting – publishing valuable new blog pieces on relevant sites
Brand Mention Claim – reaching out to websites that have mentioned your brand or name in text but haven't provided a link.
Resources – reaching out for inclusion on featured resource pages and posts
Offer Expertise – reaching out to sites with expert roundups to offer your expertise
Roundup – reaching out to sites that do link roundups to include your post or arranging our own expert roundup
How do we reach out to sites?
We want to give you a glimpse of how our outreach emails look.
They vary from campaign to campaign, but you can get the overall idea.
So, usually, on the first touch, we want to determine if we are reaching to the right person,
So, the first email sequence looks like this:

When we get the right contact, we heavily customize our email by pointing out the BENEFITS for our prospects, so it's mostly about a WHAT I CAN GET FOR YOU kind of approach:
Every email sequence is powered by Buzzstream CRM, but we don't want to focus your attention on its features as it covers all link building needs.

As a result, we get safe, authentic links from relevant blogs and niche relevant sites that are helping you to get the ranking you deserve.
Have Questions? Ideas?
What you read above is what you'll get when hiring our building service for your digital product.
There are no tricks up our sleeves.
It's all about your best content, and just a tiny bit of our know-how in finding the best prospects where we can build a link to your site with a personalized outreach.
What's the best way to reach me in case you have (and you most definitely have) questions?
Just fill out our form, so we can discuss how we can help you to grow your site's organic traffic in a safe, effective, saving literally hundreds of thousands of dollars on paid advertising and generating untold numbers of paying customers for your online business!