What was the challenge?
The client is a credited Adobe partner, and provides Premiere Pro transition packs on a subscription basis.
All of the packs are vetted by niche leading video editing experts and visual artists, so the service is highly trusted and simply well made in terms of overall UX and design.
They are on the market since 2010, and not so long ago they have moved to a new domain, therefore the need in consistent link building support is appeared.
This client was struggling to rank for competitive keywords, as there is a large amount of competition in these spaces, hence acquiring more authority links was defined as a main course of action.
The issue #1
Was in lack of relevant placement for linking
The ideal placement for such client should be a review post of some video editor blogger, or popular visual artist.
The issue #2
The niche sites we've found doesn't have the right SEO metrics
As turned out, a lot of personal sites of the mentioned video bloggers doesn't have the enough domain authority, in other words, doesn't pass any our internal metric standards.
I'm not talking about DR 15-20, we've found DR 0.3-5 blogs that won't really help us with our goals.
The issue #3
The niche is really small, and everybody knows each other and our intentions
We got replies from blogs that were 100% aware in what we're trying to achieve (to get that sweet link) and were either not responding/declining our pitches or offering a monthly sponsored package.


In other words, they receive 10-20 similar pitches each day because there are only 50 personal video editor sites in the niche with right metrics.
And last but not least…
Some bloggers were happy to proceed but they were tied with ongoing partnerships with competitive firms and were unable to promote as to without violation of their current agreements.
Quite a challenge, huh?
Here is what we did…
The main method we apply for our clients is an authority link building – mentions of your brand or product on relevant articles, published at trusted sites (see bellow).

The key to success here was to wide our search and include sites that featuring niche relevant content and have dedicated categories to visual art, video editing, also posting reviews for video editing software and passionate about content that our main audience is looking for.
The Solution
The main method we suggest in such cases is an authority link building, and here is how it works simply in 3 steps:
Step 1: Research Stage
We're looking for sites with relevant pages, where your content will naturally fit and be link worthy (for example, by using Ahrefs competitor's link profile check)
Step 2: Outreach Stage
Then we get in touch with the responsible persons and suggesting additions to their content, these edits will be links to your well-written and value-adding target pages
Step 3: Link Placement
In such a way, we're adding an extra value to our target prospects articles, which allows us to get a link to your site in return.
It's a powerful trust measure that is earned, and has compounding benefits:
Signals to Google that your content is authoritative
Which means your new content will be ranking faster
You get more impressions, more clicks, more leads
Improves your ability to rank for that given keyword
Scales your Domain Ranking and overall Authority
And drives direct referral traffic in some cases
The Results
With Filmimpact, we were able to earn link mentions for their content on 30 amazing resources and publications within 3 months of work (Authority Link Building Service)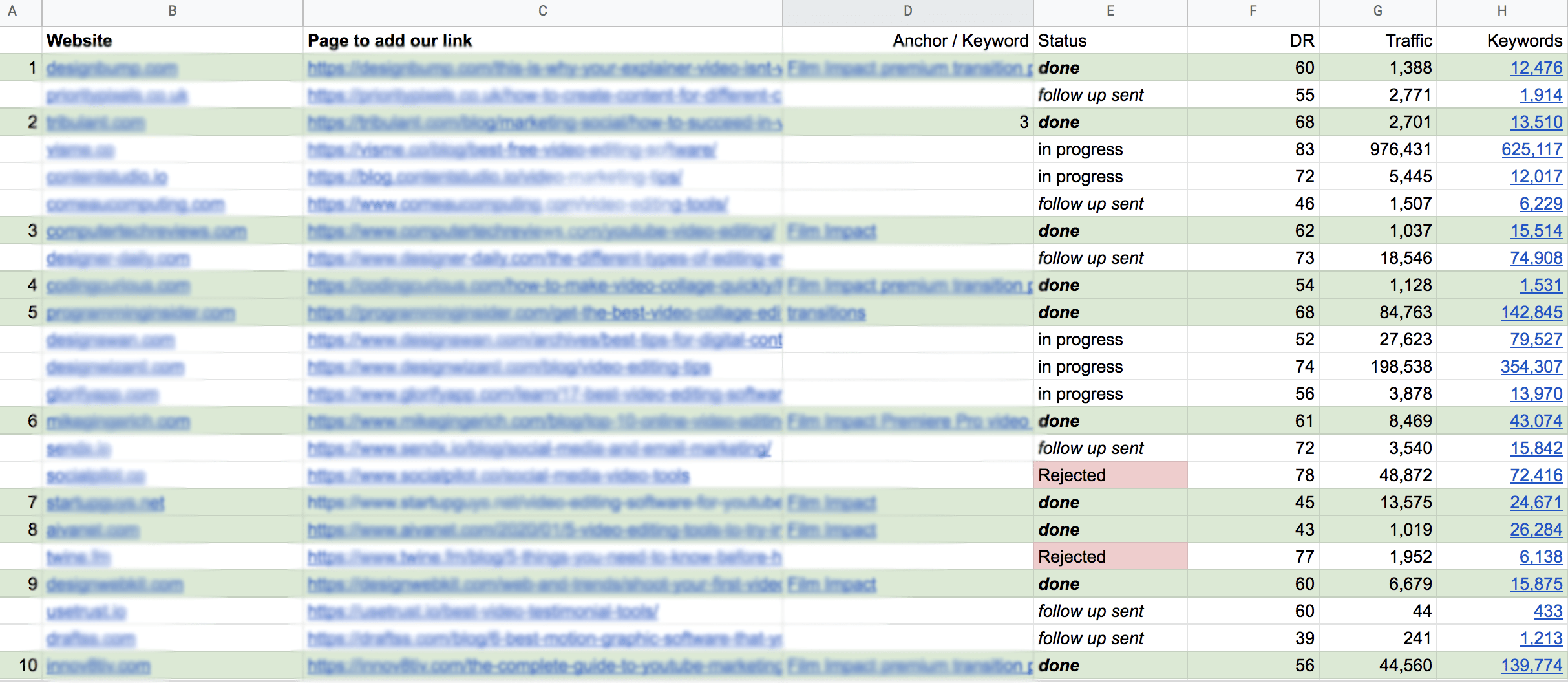 Based on the Ahrefs data, we had 800 Ahrefs traffic in July 2021, and ended up with 2,144 in September 2021, which leave us with 60% increase in Ahrefs organic traffic.
It doesn't directly correlate with the real traffic data, because Ahrefs makes only assumptions based on its own sources.
For us, it's a marker that we are moving in the right direction.

Thinking about leveling up your link building strategy? Take a look at our Authority Link Building Service here.