In this guide, you'll learn:
When you compare the apparent success of your competitors and see their backlinks, and jaw-dropping ahrefs traffic stats they have, it's pretty easy (and totally disheartening) to think it somehow happened "overnight".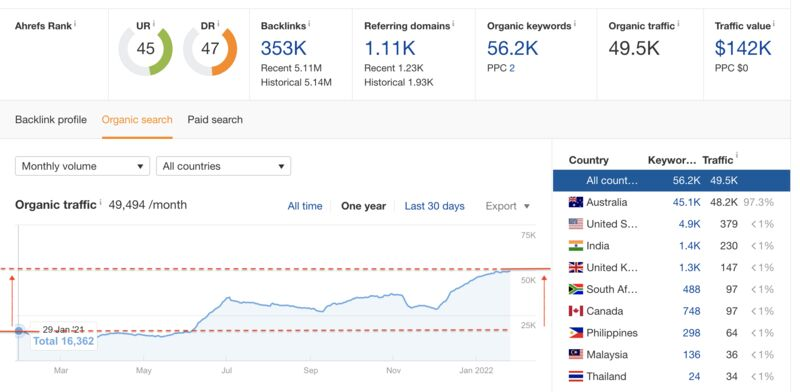 You may also think this was all just so easy to achieve.
Spoiler alert: links don't just magically start to come in by themselves.
Someone out there busted their butts off for months to make that happen.
Heads up, my fellow marketers.
While authority link-building is certainly one part of the process, this single task does not have the power to boost, sustain, or extend your SEO capabilities or strategies.
This is even more true when there are background issues.
#1: Here is what you need to check before launching your next Link Building Campaign:
The most actionable tips are always for those things we take for granted as not being an issue (yet inevitably end up becoming one), such as:
Technical issues on your website (i.e. outdated plugins, misconfigured measurement tools, etc) that can negatively impact your site's authority and trust levels.
Technical issues affect your site's performance in search engine results (or SERP) and prevent your pages from being crawled and indexed.
Your site won't even be mentioned in the first 1 million results, never mind the top 10.
Technical issues interfere with and delay any outreach campaigns you're considering starting or are in progress with. Why?
Your site just doesn't measure up to the millions of other sites with far less technical issues – that everyone's trying to build links to, as well.
Technical issues include redirects, and while some of these are unavoidable along the way, too many is incredibly bad for your site, delaying content displays and creating anxiety and paranoia while the page waits to load.
Too many redirects prevent connecting to the resource (your site) the consumer just clicked on. The worst part? Your browser tells any visitor who lands there that they've been redirected too many times to connect to your page.
Phishing is a real thing these days, and everyone is at risk from malicious content.
Redirects are a red flag to consumers, who see these sites as untrustworthy and even dangerous due to potentially malicious content that constantly gets redirected to avoid firewalls and virus detectors.
Quality issues with your content (spelling, language use, and grammar, format or display errors, etc) create distrust.
As small as you may think spelling and grammar errors could be, "little" errors like these tell the reader (your ideal customer) that you couldn't even be bothered to do a spell check or hire an editor to deliver a quality product in anticipation of their needs.
Consumers would rather switch than stay loyal to a brand that disrespects them.
Formatting or display errors are not just bothersome, they're disruptive, too. The human brain does not like misalignment at all.
Frustration and disappointment have the same effect on the brain: these emotions lower serotonin, dopamine, and endorphin levels (all those happy chemicals) and deplete your well-being in the moment.
Unhappy customers go somewhere else. It's as simple as that.
SEO issues (content not optimized, mobile-first not enabled, etc)
Links from the top domains on the internet can't drag your site up the ranks if your content is not optimized.
There are a few ways to do this, including:
✔ Know your ideal customer by building personas, which are simply empathetic ways on paper of understanding the consumer's needs (Yes, there's some psychology to it).
✔ Build and describe your ideal customer's buying journey as it relates to your brand so you can anticipate those needs.
✔ Why have you lost customers to competitors? Do you understand your competitors, even?
✔ Natural, contextual key phrases are difficult in some industries (like a spare parts company, for instance), but that's why you hire a professional writer to do it.
✔ Formatting is vitally important to your rankings: headings, alt text on images, keyword placement, categorization, and more, all tell search engines what your site or page is about.
Without proper formatting and optimization, search engines don't know how to read or index your page properly.
Communication issues (fuzzy expectations, failure to communicate, a lack of understanding, etc) create a backlog of unanswered queries, generate feelings of anxiety, and fail to set clear expectations of the anticipated outcomes for both parties.
✔ Be realistically honest.
✔ Discuss your customers' needs and offer real solutions to their problems.
✔ Answer customer questions about your brand as they weigh up the advantages of investing in you.
✔ If you truly understand your customer, you also understand that they need to know what the best linking opportunities are, too. This isn't stuff your customers think they need to know. Persevere anyway.
✔ Set a deadline date for deliverables, Mr Nice Guy.
✔ Make sure your link-builder has a clear and transparent process and is willing to walk you through the whole process, including tools and methods that they'll use to build links.
Both customers and marketers set and expect unrealistic outcomes, which is why they always end up with shady – and shoddy – link building issues.
Check each of these steps beforehand and I'm sure, you next link building campaign will benefit you the most.
Feel free to reach out if you have any questions or comments for this article!
#2: How do you know you're (really) ready to outsource your link-building strategies?
It's important to realize that not every aspect of your SEO and digital marketing strategies would need a dedicated resource to manage them.
SEO is a broad description that covers some very unrelated aspects of the same thing, such as site optimization – which is not keyword optimization – for the same piece of content.
Getting mentioned is a process. So is link-building.
It's all about your best content, and just a tiny bit of my in-depth, industry-specific know-how.
You need a personalized SaaS link-building (outreach) strategy that encompasses your organizational – and personal – goals, commitments, and dreams for your business.
Use the sequence below to determine if you're (really) ready to outsource your SEO link building needs: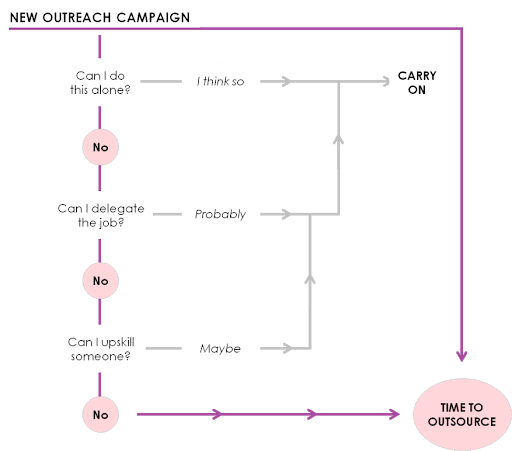 Special thanks for Oncrawl, for this definitive checklist:
Before you launch a link building campaign, review the following checklist:
Check indexation.
Optimize title and header tags.
Reformat and restructure page to match ranking pages.
Optimize content for SERP features.
Improve page speed.
Minimizing render-blocking stylesheets.
Leveraging HTTP caching for repeat visitors.
Minifying text-based assets.
Reducing server response times.
Eliminating redirects.
Defer offscreen images.
Optimizing JavaScript bootup.
Reducing network payload size.
Deferring unused CSS.
Compressing image sizes.
Declare preload links for key requests.
Optimize internal link structure.
Replace or redirect broken links.
Once you have all the technical and onpage elements in place, all that's left to do is promote outsource your link building to get your assets some valuable backlinks!
Extra tips on how to prepare your site for your next link building campaign we have here.
This stuff is just magically going to work by itself from now on.
What's next on your to-do list?